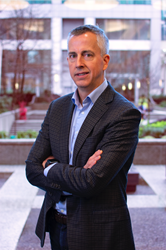 "Steve's hire marks an important milestone for me at Trulioo, as it's the beginning of even bigger and better things for our company, employees, customers, and stakeholders." - Stephen Ufford.
VANCOUVER, British Columbia (PRWEB) March 16, 2020
Trulioo, the leading global identity verification company, announced today that Steve Munford will join the company as President & Chief Executive Officer, effective March 30. Mr. Munford is an accomplished leader in security and enterprise software with extensive experience in leading companies through rapid growth.
Stephen Ufford, Co-founder and Chief Executive Officer of Trulioo, assumes the role of Chairman of the Board of Directors. Prior to founding Trulioo, he founded and led three consumer data-driven companies before they were acquired. Mr. Ufford remains as a major shareholder of Trulioo and will continue to add value to the company by providing guidance from his storied experience and industry knowledge through his new role on the Board.
"It has been a tremendous privilege to watch Trulioo grow into the success that it is today. As a serial entrepreneur, I believe this is the optimal time to transition to a new CEO. The smartest thing a founder can do during a period of dramatic growth is to step aside and hand over the reins to someone with a successful track record of driving exponential business growth with integrity and assurance," said Mr. Ufford. "I am extremely confident in Steve and look forward to working closely with him as he takes on this role and delves deeper into how best to globally scale Trulioo's products and operations."
"I am truly honored and humbled to be joining Trulioo in the role of CEO at this pivotal time. Not only is the company one of the biggest startup success stories in Canada, but it has earned the trust of so many international customers and partners around the world," said Mr. Munford. "The talented and dedicated team at Trulioo have built a world-class identity verification network to enable trust in today's borderless digital economy. I share their commitment to excellence, empowerment and technological innovation to help advance their mission of financial inclusion."
Mr. Munford, who most recently served as interim CEO at Carbonite in 2019, where he led the company through its sale to OpenText. In 2018 he was the interim CEO at Absolute Software, which he led through a restructuring and recruited a permanent CEO. Previously Mr. Munford was CEO at Sophos from 2006 to 2012 and, during that time, led the company through a period of significant growth, more than tripling bookings. Sophos sold to the private equity group Apax in 2010 and then to Thoma Bravo in 2020. Prior to his role as CEO, Mr. Munford was President of ActiveState before its acquisition by Sophos in 2003. Under his leadership, ActiveState established itself as a global leader in email security software.
"The Board conducted a thorough search to identify a strategic leader with specific skills and experiences to lead the company in the next phase of its growth, and we unanimously agreed that person is Steve Munford," said Mark Midle, Managing Director at Goldman Sachs Growth Equity, which is an investor in the company, and a member of Trulioo's Board of Directors. "Mr. Munford has shown outstanding leadership and a proven ability to deliver strong results. His expertise and drive will help focus on new levels of strategic growth and expansion as the company is well-positioned for long-term success."
"I am extremely proud of what my team and I have built over the last decade here at Trulioo. Steve's hire marks an important milestone for me at Trulioo, as it's the beginning of even bigger and better things for our company, employees, customers, and stakeholders," said Mr. Ufford. "There is no doubt in my mind we are creating an iconic brand in the identity space, and an anchor tenant of the Canadian technology sector."
About Trulioo
Trulioo is a global identity verification company that provides secure access to reliable, independent and trusted data sources worldwide to instantly verify consumers and business entities online. Trulioo's marketplace of global identity networks, GlobalGateway, helps organizations comply with Anti-Money Laundering (AML) and Customer Due Diligence (CDD) requirements by automating Know Your Customer (KYC) and Know Your Business (KYB) workflows. Trulioo supports global clients to instantly verify five billion customers and 250 million business entities in over 195 countries – all through a single API integration. Named as a CNBC Disruptor 50 Company, Trulioo's mission is to solve global problems associated with verifying identities by powering fraud prevention and compliance systems for customers worldwide in an effort to increase trust and safety online. For more information visit trulioo.com.