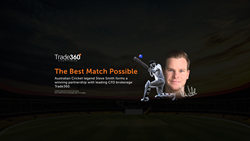 Trade360's CrowdTrading ...It's an amazing technology that helps me confirm or question what I think the market trends are when I'm trading. It's genius really, because you get to see what other traders just like you are doing, instead of relying on computer feedback." Steve Smith
SYDNEY (PRWEB) May 01, 2020
Trade360 Australia, an online CFD provider with regulation by ASIC, has just announced its new global brand ambassador - Australian Cricket superstar Steve Smith.
As part of the partnership, Steve Smith will serve as the public face for Trade360 and appear in various ads across all mediums.
"We always believed that sport and trading have a lot in common," explains Trade360's Chief Dealer, Chris Judd. "Both take preparation, study, training plus hard work if you want to be successful - who else is better to make the connection than one of Cricket's most recognizable faces over the last couple of decades, if not ever?"
Smith himself pitched in, saying, "I've had a real interest in the world of online trading over the last couple of years, and using the platform has been a real learning experience for me. It allows me to broaden my knowledge and use a talent I didn't know I possessed – a talent for sniffing market trends. What drew me to Trade360 was when I started hearing about CrowdTrading. I did an online search and one name kept popping up – Trade360. It's an amazing technology that helps me confirm or question what I think the market trends are when I'm trading. It's genius really, because you get to see what other traders just like you are doing, instead of relying on computer feedback."
Steve Smith, a world-famous cricketer and former captain of the Australian national team, has won multiple awards in both International and local competition, and has been recognized as the ICC cricketer of the year. As the reigning number 1 Test batsmen in the world, with a distinctively high Test batting average, Smith holds numerous batting records from across his career and currently plays for both the Sydney Sixers and the NSW Blues in domestic Australian leagues, as well as for the Rajasthan Royals in the Indian Premier League.
Trade360 was founded in 2013 by a group of entrepreneurs and technology experts, whose primary goal was and remains the empowering of the general public to partake in the excitement and opportunities of the world's financial markets.
Trade360 has long been considered one of the industry's leading trading brands, offering a wide range of opportunities for traders of all levels of experience – beginners to veterans.
Traders choosing to join Trade360 enjoy access to a variety of platforms (mobile and desktop), both with innovative and advanced features – from charting tools to intuitive layouts and, of course, superior customer service and excellent advisors to help them trade.
Trade360's innovative CrowdTrading is an integral component on both its online platform and mobile apps – the latter which are available through Apple's Appstore and Google's Play store. CrowdTrading enables traders to examine the movements and behaviour of the trading collective of the Trade360 community, in real time, thus enabling them to recognize market trends the moment they develop and with great accuracy – a significant addition to the arsenal of both new and seasoned traders.
Trade360 Australia is a trading name of Sirius Financial Markets Ltd (ABN # 36 142 189 384), with regulation by ASIC and licensed to carry on a financial services business in Australia under Australian Financial Services License number 439907 (AFSL).
Trade360 Australia is the issuer of over-the-counter (OTC) derivatives including Margin FX and Contracts for Difference (CFDs). Trade 360 Australia offers CFDs over underlying instruments including shares, indices, commodities and cryptocurrencies. Trade360 Australia does not issue or sell cryptocurrencies, nor is it a digital currency exchange service provider. Transactions are entered into on a principal to principal basis. The products issued by us are not traded on an exchange.
Risk Warning: Trading OTC Derivatives carries a high level of risk to your capital and you should only trade with money you can afford to lose. Trading OTC Derivatives may not be suitable for all investors. Before trading derivatives, please ensure that you fully understand the risks involved and seek independent advice if necessary. The information provided on this website is for general information purposes only and does not consider your objectives, financial situation, or needs. We recommend that you seek independent professional advice and consider the Financial Services Guide, Product Disclosure Statement and Client Agreement at https://www.trade360.com/en-gb/legal/ or on request from our offices before you transact with us.
The information provided by Trade360 Australia is not intended to be an inducement, offer, or solicitation to anyone outside of Australia and is not intended for distribution to, or use by, any person in any country or jurisdiction where such distribution or use would be contrary to local law or regulation.
Trade360 Australia is a worldwide brand committed to your trading experience. This material should not be construed as containing investment advice or an investment recommendation, or an offer of, or solicitation for, any transactions in financial instruments. For further information regarding our regulatory status, please visit our website at http://www.trade360.com.