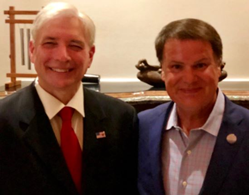 "We are excited that he has joined our team and look forward to working with him. He is truly a talented and gifted man."
WEST PALM BEACH, Fla. (PRWEB) April 17, 2019
Steven Rogers is a former Military Intelligence Officer and a frequent guest of FOX News, other national media news outlets and serves on the Trump Campaign Advisory Board.
Rogers is committed to advancing the MAGA agenda of President Donald Trump via social media, public appearances, speaking tours and by bringing on one of America's most successful businessmen and supporter of Donald Trump.
"I asked Julio Gonzalez to join our Board of Directors because he has consistently demonstrated an unwavering commitment and dedication to our nation, as well to President Trump. We are excited that he has joined our team and look forward to working with him. He is truly a talented and gifted man."
Julio Gonzalez is a well-respected leader in his field, as well as in the tax reform world. Amongst many of his talents, Julio has an extensive track record of speaking at national events on topics such as cost segregation, historic tax credits, opportunity zone, research and development, and emerging tax programs.
About America Winning Coalition
America Winning Coalition is committed to educating and empowering citizens to participate in America's political process by addressing public policy issues, engaging political leaders, and advancing the values in which our nation was founded upon.
About ETS
Engineered Tax Services, Inc. (ETS) is a licensed engineering firm that focuses on federal, state, and local tax benefits. Founder and CEO, Julio Gonzalez, is an expert in tax reform whose strong presence is helping define our current tax laws. Under Gonzalez's guidance and true insight into how the industry is shaping, Engineered Tax Services is one of the largest, fastest growing, and most innovative engineering, energy, and specialty tax credit services firm in the country. Visit us at http://www.engineeredtaxservices.com.