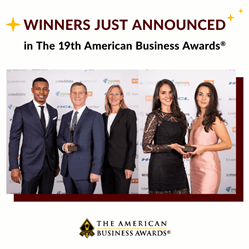 "This year's Stevie-winning nominations in The American Business Awards are testament to the ingenuity, the commitment, the passion, the adaptability, and the creativity of the American people. We look forward to celebrating this year's winners during our virtual ceremony on June 30."
FAIRFAX, Va. (PRWEB) April 29, 2021
The Stevie® Awards, organizers of the world's premier business awards programs, today announced the Gold, Silver and Bronze Stevie winners in The 19th American Business Awards®.
All organizations operating in the U.S.A. – large and small, public and private, for-profit and non-profit - are eligible to submit nominations to the ABAs in a wide range of categories, honoring achievement in every aspect of work life, from customer service and management to public relations and product development. More than 3,800 nominations, a record number, were reviewed in the judging process this year by more than 250 professionals worldwide, whose average scores determined the winners.
Winners of three or more Gold Stevie Awards include:
Altium LLC (La Jolla, CA), ARRAY Information Technology (Greenbelt, MD), Bursali (Bursa, Turkey), Comcast Business (Philadelphia, PA), C-Strategies Inc. (Chicago IL), Estée Lauder Companies (New York, NY), Global Citizen (New York, NY), GN Hearing (Copenhagen, Denmark and Bloomington, MN), Hearts & Science (New York, NY), Ingersoll Rand (Charlotte, NC), Jeunesse Global (Orlando, FL), John Hancock (Boston, MA), Katalyst Productions (Philadelphia, PA), New American Funding (Tustin, CA), Other World Computing (Woodstock, IL), St. Croix Chocolate Co. (Marine on St. Croix, MN), State Farm (Bloomington, IL), Tinuiti (New York, NY), T-Mobile (Bellevue, WA), and Wolters Kluwer Legal & Regulatory U.S. (New York, NY).
Among other winners, organizations with five or more Gold, Silver, or Bronze Stevie wins include:
5W Public Relations (New York, NY), BMO Financial Group (Chicago, IL), Department of Labor Office of the Chief Information Officer (Washington, DC), Fannie Mae (Washington DC), Grant Thornton LLP (Chicago, IL), IBM (Armonk, NY), Makers Nutrition (Hauppauge, NY), Merkle (Columbia, MD), Nature's Sunshine (Lehi, UT), OnBoard (Indianapolis, IN), POWERHOME SOLAR (Mooresville, NC), RepairSmith (Los Angeles, CA), Salesforce (San Francisco, CA), SmartLinx (Iselin, NJ), SoftPro (Raleigh, NC), TriNet (Dublin, CA), Wesley Financial Group (Nashville, TN), Wolters Kluwer (Minneapolis, MN), and Xandr (Boston, MA).
For a complete list of the Stevie Award winners announced today, visit visit http://www.StevieAwards.com/ABA.
Winners of six best-of-show prizes will be awarded Grand Stevie Award trophies. Those winners will be announced the week of May 10.
2021 Stevie winners will be celebrated during a virtual awards ceremony on Wednesday, June 30 at 2pm ET. Details of the event are available on the website.
The categories that recognize outstanding new products and services introduced in the USA are among the most heavily subscribed in the ABAs, and every new product or service nominated in The 2021 American Business Awards is included in voting for the People's Choice Stevie Awards for Favorite New Products, a worldwide public vote. Voting opened today at at http://peopleschoice.stevieawards.com and will conclude on May 28. People's Choice Stevie winners will be announced the week of June 1 and will be honored during the June 30 virtual presentations.
"The American economy continues to show its resilience, and as we're poised on the beginning of what should be a phenomenal period of growth, we celebrate the remarkable achievements of a wide range of organizations and people over the past 18 months," said Stevie Awards president Maggie Gallagher. "This year's Stevie-winning nominations in The American Business Awards are testament to the ingenuity, the commitment, the passion, the adaptability, and the creativity of the American people. We look forward to celebrating this year's winners during our virtual ceremony on June 30."
About the Stevie Awards
Stevie Awards are conferred in eight programs: the Asia-Pacific Stevie Awards, the German Stevie Awards, the Middle East & North Africa Stevie Awards, The American Business Awards®, The International Business Awards®, the Stevie Awards for Women in Business, the Stevie Awards for Great Employers, and the Stevie Awards for Sales & Customer Service. Stevie Awards competitions receive more than 12,000 entries each year from organizations in more than 70 nations. Honoring organizations of all types and sizes and the people behind them, the Stevies recognize outstanding performances in the workplace worldwide. Learn more about the Stevie Awards at http://www.StevieAwards.com.
Sponsors of The 2021 American Business Awards include John Hancock, Melissa Sones Consulting, and SoftPro.