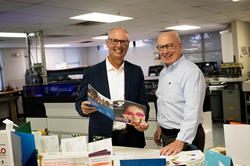 NEW CASTLE, Del. (PRWEB) February 03, 2021
Two people and one idea. It's been an equation that has equaled some of America's greatest business successes. Household names like Microsoft, Ben and Jerry's and Google all began as shared pursuits benefitting from the drive, creativity and savvy of their individual partners.
Though not yet a household name, Growth Inc. of Newark, Delaware, has also blossomed thanks to two people recognizing their individual abilities and respecting what each brings to their partnership. "That," say John Riley and Alan Gardner, "is exactly how it works. Together we are smarter and stronger."
With more than 25 years as business partners at the printing, signage and fulfillment company, Riley and Gardner will tell you in a heartbeat it hasn't always been a smooth path to success.
Taking That First Leap Toward Growth
The initial idea for what would become Growth Inc. came in the early 1990s while both were working in the DuPont printing plant just over the Delaware state line in Boothwyn, Pennsylvania. "And that's where John started this diabolical plan to ruin our financial future, as one of our coworkers said to us on the way out the door," Gardner says, laughing.
And to other long-time DuPonters, it might have seemed that way. Gardner, with more than two decades of service, was supervisor of the plant's fulfillment center, and Riley, an electrician by trade, oversaw the plant's facilities. By most accounts, they were doing—and would continue to do—just fine.
But the installation of a then-groundbreaking on-demand digital printer at the DuPont facility showed there was a new energy in printing. "I thought it was really something," Riley says. "It's new and it's exciting and it's really working. This was a technology that was starting to come in to its own."
Setting the Pace of Business for the New Millennium
The Sir Speedy franchise materials Riley had studied, and Gardner's own market research, touted digital on-demand as the future of printing, and despite the risks, both saw the opportunities that lay ahead. After opening their Sir Speedy franchise in Newark as a 50/50 partnership, Riley and Gardner immediately felt a sense of freedom after years working for a multinational corporation where decisions were often made at a glacial pace.
"For us to be owners and think, you know what? This ship needs to turn now, and you turn it," Gardner says. "It was liberating. It's not that there wasn't stress, but this was ours, and if we want to make it happen, we can do it fast."
Since then, the navigation of the company has depended entirely on the trust each partner has in the other to make decisions in their designated areas of expertise. Gardner is the gregarious and admittedly more emotional people person, prospecting for new clients, maintaining accounts and handling the marketing side of the business. Riley is the cool-headed operations guy who keeps an eye on all the financials and makes sure the work gets done.
"With Growth Inc. Anything is Possible"
The corporate culture of "yes" evolved early. The pair now joke about how, as the growing Sir Speedy shop was trying to attract customers, Gardner would commit the shop to jobs it was not yet positioned to do, prompting Riley to calmly figure out a solution so they could successfully deliver the finished job. Riley, meanwhile, laughs about how he would go to excessive lengths to keep customers happy, occasionally performing tasks—such as setting mousetraps or replacing desktop printer cartridges—far outside the normal expectations of an ordinary print shop.
Many of those first "yesses" have turned into major clients who've been with Growth Inc. for more than 25 years. It's also that willingness for each partner to say yes to the other's ideas that resulted in successful decisions like branching out into fulfillment and being among the first Sir Speedy franchises to go beyond being a copy shop to embrace larger scale digital on-demand printing.
"I think the biggest secret to our success is how we've divided our roles," Riley says. "I don't get in his way and he doesn't get in my way. We're certainly back and forth as far as talking about things, but he does what he does, and I do what I do. We're very different and we're very different in how we go about it, but we're always supportive of each other. We don't fight. As far as resolving conflict and compromise, we just don't have those issues. And it's unusual, I think."
That trust has helped them face a couple of big gambles knowing they had each other's backs.
When Gardner and Riley were considering the purchase of their first fully digital press that was designed to replace traditional offset printing, Franchise Services Inc. (FSI), Sir Speedy corporate, warned that the purchase represented a significant business and financial risk for the partnership. "FSI are invaluable partners and we have a great relationship with them, but we knew we had to forge ahead with the digital press," says Riley. Later, understanding that getting customers' jobs where they needed to be would be a complement to their on-demand digital printing services, the partners decided to pursue fulfillment and started Accudite Fulfillment, which now accounts for 25 percent of the business. "We were rapidly evolving into what is now Growth Inc., offering on-demand printing, fulfillment, signage and marketing services to all our customers—the expansion was deliberate," Gardner says.
Staying Focused on What's Next
"2020 was an interesting year—our team adapted rapidly to the challenges of the pandemic's restrictions," says Riley. "We never missed a step in delivering often brilliant solutions to clients' challenges. We have big plans for this year that include innovative processes and big technology ideas! We . invested in new equipment and technology in 2019 and 2020 that will allow us to offer more innovative products and services to our clients going forward. This new and improved technology will help us deliver on our promise to help our customers succeed with even better quality and faster turnaround. We are excited to offer these new options to all our clients."
And after more than a quarter-century of friendship and business partnership, Gardner sums their success up this way: "If you want to talk about how a partnership succeeds or fails, it goes back to this: Be clear about what you're responsible for, help each other and support each other and be accountable for what you're responsible for."