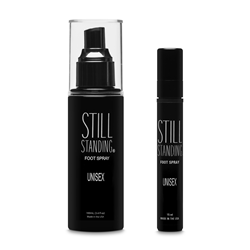 NEW YORK (PRWEB) January 17, 2020
Still Standing® Foot Comfort Spray Goes Unisex
To Rock Official 62nd GRAMMY Awards® Gift Bag
IMAGE: Still Standing®/ Official GRAMMY® Gift Bag: https://bit.ly/2R60TsF
Award season is in full swing and A-list celebrity favorite Still Standing® Foot Comfort Spray has a starring role in the official 62nd GRAMMY® Gift Bag given to all Presenters and Performers.
Nominees for this year include: Beyonce, Taylor Swift, Post Malone, Lil Nas X, Lady Gaga, Lana Del Rey, Shawn Mendes, John Legend, Ed Sheeran, Cardi B, 21 Savage, Offset, Miranda Lambert, and many more.
The product has been so popular in past red carpet seasons, it has even been waitlisted with stylists ordering over a month ahead to ensure their supplies for their clients.
This year, new Unisex Still Standing Spray (full size and travel size) works for men as well as women so that everyone will walk in comfort. New Still Standing Unisex Spray is also a top men's stylist choice, especially for those wearing thin-soled dress shoes, luxury Italian loafers or standing for extended periods.
Hosted by Alicia Keys and broadcast on CBS, those receiving Still Standing Unisex Foot Comfort Spray at the GRAMMY Awards® in Los Angeles will include Demi Lovato, Billie Eilish, Ariana Grande, Aerosmith, Gwen Stefani, Camila Cabello, Jonas Brothers, Blake Shelton and Lizzo, among many others.
A go-to red carpet favorite for Hollywood fashion stylists and their A-list celebrity clients, Still Standing Unisex is sprayed on feet as a final touch before they slip into their Louboutin, Sophia Webster, Giuseppe Zanotti and Manolo flats and high heels, to relieve "stiletto suffering" without numbing the feet.
Some past sage advice James Corden, a former GRAMMY host, shared with Alicia Keys regarding hosting the show was to wear comfortable shoes. Still Standing Spray is delighted that it will let Alicia and others wear any footwear comfortably when used.
Created by fashion solutions expert and former award-winning TV producer Lyn Butler, Still Standing Foot Comfort Spray is made with Certified Organic Eco-Distilled™ Arnica, Aloe, Ilex and cooling menthol, to help prevent swelling and keep feet feeling great 7 times longer. Best of all, it's natural, drug-free and paraben-free.
Online, The Still Standing® Total Comfort Set ($40.00) includes one large size spray (100 mL) and one mini spray (15 mL). The Still Standing® Double On the Go Set ($40.00) includes four travel sized mini sprays (15 mL each). In celebration of the Grammys, anyone who uses the code GRAMMY on http://www.stillstandingspray.com will get $10 off their order.
Still Standing Foot Comfort Spray is available at http://www.stillstandingspray.com, http://www.amazon.com and can also be found on Facebook: @StillStanding, Twitter: @bystillstanding and Instagram: @bystillstanding
About the Recording Academy®
The Recording Academy represents the voices of performers, songwriters, producers, engineers, and all music professionals. Dedicated to ensuring the recording arts remain a thriving part of our shared cultural heritage, the Academy honors music's history while investing in its future through the GRAMMY Museum®, advocates on behalf of music creators, supports music people in times of need through MusiCares®, and celebrates artistic excellence through the GRAMMY Awards—music's only peer-recognized accolade and highest achievement. As the world's leading society of music professionals, we work year-round to foster a more inspiring world for creators.
For more information about the Academy, please visit http://www.grammy.com. For breaking news and exclusive content, follow @RecordingAcad on Twitter, "like" Recording Academy on Facebook, and join the Recording Academy's social communities on Instagram, YouTube, and LinkedIn.