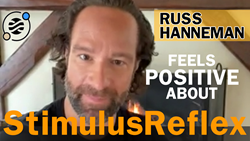 You can't change how the world builds software by being 5% better. StimulusReflex delivers a 500% productivity advantage over tools like React.
HEBER CITY, Utah (PRWEB) September 22, 2020
Hopsoft LLC, creators of the development tool StimulusReflex, announced a milestone release today. The new v3.3 Morphs release delivers a 400%–500% productivity advantage compared to the large teams working with previous-generation tools such as React (Facebook) or Angular (Google). Morphs make it possible for individual developers and small teams to produce blazing-fast user experiences in a fraction of the time, while making use of their existing skill set.
Developers can use StimulusReflex Morphs to make user actions such as clicks or taps run code functions on the server, just by adding a simple keyword to their page. Those functions are so optimized, UI updates can take as little as 4ms — two orders of magnitude faster than the 250ms gold-standard recommended by Google.
Only the bare minimum HTML required to keep the page up to date is sent over the net.
"You can't change how the world builds software by being 5% better," says StimulusReflex creator Nate Hopkins, with his eye on the $10B/year application development software market. "You have to change the fundamental paradigm and be five – even ten – times better, faster and cheaper. That's exactly what we're doing with StimulusReflex Morphs."
VIDEO LINK: Russ Hanneman feels positive about StimulusReflex
Ruby on Rails: The Great Surplus
Hopkins, a respected web development expert, has used the Ruby on Rails web framework to build several technology companies over more than a decade. Rails has been extremely popular and influential since its release in 2004. Companies such as Shopify, AirBnb and GitHub run on Rails. In a recent analysis of the top 50 Y-Combinator-funded companies, 16 of those 50 companies used Ruby to create $92B worth of value — 52% of the total and more than 3.5x higher than the closest competitor, Python.
"Rails has always been the best choice for high-productivity web development, but the popularity of React meant that for a time Rails didn't seem like the cool, hipster choice," reflects StimulusReflex core team member Leastbad. "What we did was take Rails and make it better at reacting than React. We keep all of the state on the server, sending only the latest HTML to the user's device. Managing client state used to be 80% of my job... the bad 80%. It's hard to describe how much better this is without getting emotional. Developers are already reclaiming years of their lives."
StimulusReflex flips the SPA narrative from "everyone is doing it" to "oops"
In the early days of the web, people would click on a link and a few seconds later, the web server would send the HTML data web browsers need to show the next page. Developers used increasingly complicated techniques to make those pages feel less like MySpace and more like Gmail, which felt like a real desktop program. Struggling to manage complexity under the weight of their own success, Facebook released React — a framework for creating Single Page Applications (SPAs) — in 2013. It quickly became a common choice for CTOs who figured that if it's good for Facebook, it's good for them, too. SPAs work by moving business logic and UI state to the user's computer or phone. Unfortunately, SPAs are designed to mitigate their inherent complexity by hiring larger teams to implement them.
"Yes, our goal is to help developers ship complex features. Faster, with smaller teams and of course, more fun," says core team member Julian Rubisch, a developer and musician based in Vienna, Austria. "We're also sensitive to the new EU privacy regulations and the resulting uncertainties in the USA. Should developers continue to trust Facebook funding and steering one of the main tools people use to build the web? It's troubling."
About StimulusReflex
Created by Nate Hopkins in 2018, StimulusReflex (SR) is an Open Source framework that has been downloaded over 90,000 times, with installs increasing by more than 5,000/week. Boasting 44 contributors from the USA, Canada and Europe, SR has been used by over 500 developers to create at least 250 products and projects. Companies using SR include PeopleForce (HR), Podia (eCommerce), Passage (Event Ticketing) and OllieOrder (Sales).
Inquiries: +1 (818) 8 REFLEX