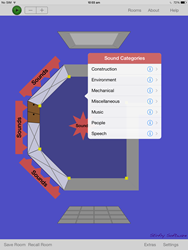 SoundSoup helps you design the sound of a room, in the same way that 3D visualization programs help you to design the visual features.
Sydney, Australia (PRWEB) April 08, 2014
Some rooms just sound bad. Maybe voices are too jumbled to understand; or traffic noise from outside destroys the peaceful setting; or it sounds like an echo chamber instead of an intimate dining area. Perhaps a private office transmits confidential conversations to adjacent areas. A new iPad App called SoundSoup from Stirfry Software can help during the design process to eliminate mistakes like these, avoiding the disappointment and unnecessary expense of changing the room later. By acoustic modelling, SoundSoup helps to design the sound of a room, in the same way that 3D visualization programs help to design the visual features.
Under the hood, SoundSoup relies on some sophisticated digital signal processing and expert knowledge of acoustics to accurately model the sound, but the simple user interface makes it easy for anyone to use. Measurement units can be selected to be metric or imperial. And at just a few dollars, it's not going to strain the budget.
In SoundSoup begin by choosing one of the ready-made rooms, or an empty room. Add sounds inside the room (such as speech, music, air-conditioning noise etc.) or outside the room (like traffic, aircraft, a TV in an adjacent room, a dog barking, or many others). Now push Play, and hear the sounds as they would be heard in the room. Make the room larger or smaller, add or remove carpet, curtains or other features, and hear the change in sound immediately. Change the windows, or the wall construction, and outside noises become less or more intrusive.
Take a video tour of how SoundSoup works.
Wendy Tufts, from Stirfry Software, says, "Companies that supply acoustic materials can partner with us to demonstrate their products within SoundSoup. We can link to the Company's own website from within the App. Products can either be included in the list of selectable materials within SoundSoup, or alternatively we can create a customized, branded version of SoundSoup for them."
SoundSoup for iPad can be found on the iTunes App Store.
***
SoundSoup for iPad is produced by Stirfry Software, a recent Australian venture which is a collaboration between an experienced professional acoustic engineer, Dr. Rob Bullen, and Wendy Tufts, an international IT consultant.
Check out the Stirfry Software website.