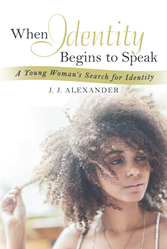 PHOENIX (PRWEB) November 01, 2021
Author and retired attorney J. J. Alexander has released her debut novel, "When Identity Begins to Speak," a fictionalized account based on a true story. A powerful and profoundly moving coming-of-age story set in mid-century America, the book follows a young woman named Hannah as she overcomes numerous barriers and strives to make sense of her place in a complicated world.
Hannah spends the first seven years of her life in an orphanage, longing for a family of her own to love and cherish. On the surface, her adoptive parents seem like a gateway to a better life; however, her father is abusive and deceitful, and her mother emotionally withholds her love from Hannah. At 19, Hannah decides to finally set out on her own and find out who she is, a journey that brings shocking revelations when she retrieves her birth certificate and discovers she is not fully African American but biracial. Later in her years, she also discovers her Jewish inheritance.
With intimacy and candor, "When Identity Begins to Speak" invites readers into Hannah's inner world as she faces the consequences of injustice and inequity, navigates a broken adoption system, heals from the wounds of her past, finds family and community and, ultimately, fights to bring her dreams to fruition. The book draws attention to the many hurdles women face in their pursuit of self-determination while instilling them with the strength, courage and resilience to decide for themselves who they really are.
"My goal is to address the complicated issues of women in these pressing times," said Alexander. "The rejection of one's racial, culture, adoptee and religious identities should not become a platform from denying women from pursuing their dreams. We are forever searching and learning about our identities, and no one else can define our identities for us."
"When Identity Begins to Speak is a mirror in which many Americans by birth or by choice will recognize their own lives, struggles and voices," said Hagai Leal, Magister in Social Anthropology by the Universidad Nacional de San Martín, Argentina, and Doktorand at the Institute für Ethnology of Goethe University Frankfurt, Germany.
"J.J. Alexander tells a story for our times. This is a narrative not just of self-discovery, but an affirmation of the vast possibilities of making and naming identity in a world torn by resistance to diversity," said Dr. Stephen Daniel Arnoff, Fuchsberg Jerusalem Center. "If we are to thrive as a society, we will need brave, eloquent teachers like Alexander who model making peace within themselves as the foundation of the new communities we will build. 'Circling around the center of knowing,' Alexander recounts how even the sharp edges of race, religion, abuse, and class can emerge gloriously as the blueprint for a sanctuary of love."
"When Identity Begins to Speak: A Young Woman's Search for Identity"
By J. J. Alexander
ISBN: 9781665706117 (softcover); 9781665706094 (hardcover); 9781665706100 (electronic)
Available from Amazon, Barnes & Noble and Archway Publishing
About the author
J.J. Alexander is an author and retired attorney. She earned a degree in sociology and a Juris doctorate, and later became an assistant prosecutor. Alexander traveled to 18 nations learning about people and other cultures. She is married and enjoys writing about history and current events.
Review Copies & Interview Requests:
LAVIDGE – Phoenix
Leslie Standridge
480-998-2600 x 586
lstandridge(at)lavidge(dot)com