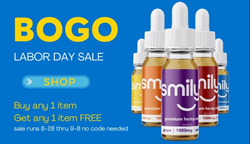 The BOGO deal is a big deal. Revenue growth means little if we're not making people's lives better.
SAN DIEGO (PRWEB) August 31, 2020
Popular California CBD brand, Smilyn Wellness, has launched a limited-time Buy One, Get One deal (no code necessary).
Through Septemeber 9th, consumers can stock up on their favorite zero-THC Smilyn CBD products with this huge Labor Day deal, including CBD tinctures, gummies, roll-ons, face masks, salve, pet products and more.
What makes this BOGO deal extraordinary? You choose your favorite items. Buy any one item, get any one item free.
Smilyn Wellness: BOGO Labor Day Sale —
Did someone say BOGO on CBD? What do you get when you combine the Smilyn Wellness BOGO deal and innovative CBD products? One-of-a-kind smiles.
Brett Weiss, Co-Founder and CEO reveals, "The BOGO deal is a big deal. Revenue growth means little if we're not making people's lives better. Get two CBD products for the price of one. Get ten CBD products for the price of five. You smile, we smile. Our Labor Day sale ensures that no limits are placed on smiles."
Shop Smilyn Hemp Products —
The Smilyn Wellness brand believes in the untapped potential of CBD to heal the mind and body. Aside from the support it provides the symptoms of stress and anxiety, CBD is shown to be an excellent source for joint and muscle pain relief, skincare, and sleep aid. It also has anti-inflammatory, antioxidant, anti-psychotic, and antidepressant properties.
Smilyn Wellness is a lifestyle brand. A lifestyle that promotes longevity for every person (and every pet). Shop the BOGO exclusive deal now.
About Smilyn Wellness
Smilyn Wellness in California is a CBD-wellness brand simplifying the benefits of premium hemp extract. We exist to revolutionize. We exist not only to help individuals look and feel amazing — but also smile throughout the adventures of life. Combining scientific data with health-based knowledge, Smilyn offers a portfolio of hemp-derived CBD products that are trustworthy, tasty, and geared toward an active new-age lifestyle.