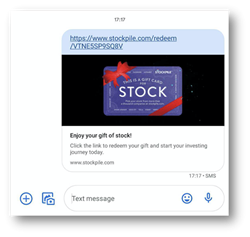 ...We hope Stockpile-by-Text will encourage more U.S. families to embrace the stock market in time for the holiday shopping season.
PALO ALTO, Calif. (PRWEB) December 18, 2020
Online brokerage, Stockpile today announced the launch of Stockpile-by-Text, the first-ever personalized animated gift card for stock. The new gift card format will allow users to deliver an e-gift card for stock via any texting or instant messaging service on any device in a matter of seconds. It is the fastest, simplest way to start a family member, friend or loved one on their investment journey.
"Stockpile's mantra has always been to simplify investing. Texting from a smartphone is now the primary form of communication, especially with the younger generation," said Victor Wang, CEO of Stockpile. "It's a natural extension of our existing e-gift offerings. It combines the familiar gift giving experience with texting and instant messaging. We hope Stockpile-by-Text will encourage more U.S. families to embrace the stock market in time for the holiday shopping season."
To send a Stockpile-by-Text, consumers use our intuitive functionality to gift any amount they want right from the mobile app or online at http://www.stockpile.com/gift-cards. Once purchased, the gift-giver can simply copy a link from their receipt and paste the animated e-gift card directly into a private text or instant message. As COVID restrictions continue to keep families at a distance this year, consumers can now deliver a personalized e-gift card for stock instantaneously.
"Stockpile is currently the only brokerage that leverages the familiarity and convenience of gift cards to help people of any age get started with investing," said Wang. "With the introduction of Stockpile-by-Text, we can offer new designs year-round for other key occasions such as weddings, baby showers, graduations and the Lunar New Year."
About Stockpile
Stockpile is simplifying investing. By building confidence in consumers, anyone can begin their investment journey at any age. From a mobile app or web browser, the familiarity of a gift card is paired with the flexibility of fractional share trading to make the stock market more approachable than ever before. Both individual and custodial accounts are equally supported so today's youth can embrace their financial future as conveniently as their guardians. Founded and headquartered in Palo Alto, California, Stockpile is the easy way to show that everyone is an investor. To learn more about simplified investing and gift cards for stock, visit http://www.stockpile.com.