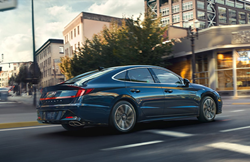 STOCKTON, Calif. (PRWEB) April 20, 2021
Stockton Hyundai is eager to announce they have are offering quite a few different service specials that drivers in the Stockton, CA, region can take advantage of. Stockton Hyundai prides itself not only on providing the best vehicles at the best cost, but also being there for their customers when it comes time to do repairs and perform updates or upgrades on vehicles.
The first service special that Stockton Hyundai is offering has to do with Hyundai vehicles cooling systems. The California sun is no joke, and the team at Stockton Hyundai is offering a $15 off coupon that can be used on this service. This service includes a pressure test, refilling up to one gallon of new coolant, checking and draining the cooling system and a check of all fluids, wiper belts, and drive belts.
Another service that Stockton Hyundai is offering deals with Hyundai vehicles oil filters. For $49.95, the trustworthy team at Stockton Hyundai can replace up to 5 quarts of engine oil specific to each Hyundai model. They will also install a Hyundai oil filter and check the vehicle's vital fluids. Additionally, they will perform a multi-point inspection on the vehicle as well.
These service special deals can only be redeemed at the local Stockton Hyundai dealership, which serves the greater Stockton, CA area. The coupon must be presented at the time of service and cannot be redeemed with any other promotional offers. To learn more about Stockton Hyundai, and the other service specials they are offering, head over to their website today at https://www.stocktonhyundai.com/?utm_source=prweb&utm_medium=press_release&utm_campaign=2021april20 or call them at 209-227-1081.