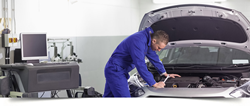 STOCKTON, Calif. (PRWEB) February 09, 2021
Stockton Hyundai is proud to announce its new Emergency Responder Program to local first responders in the Stockton, CA area. Local firefighters, police officers and medical personnel can take advantage of this opportunity as long as they provide a current, active form of identification.
Eligible first responders can head over to Stockton Hyundai to get service deals and discounts on different services. One of the services offered for these individuals is a conventional oil change for $29.95. Another service that these first responders can use is for a synthetic oil change for just $39.95.
First responders can also get their vehicle tires rotated for only $9.95 thanks to the Emergency Responder Program at Stockton Hyundai. If a first responder is looking to buy or lease a new vehicle from Stockton Hyundai, they can get a $500 bonus towards any of the vehicles in stock. The last benefit first responders can take advantage of with the Emergency Responder Program is a 15% coupon off any car repair or major service.
This program is Stockton Hyundai's way of saying thank you to all the first responders who are on the front lines during this pandemic. Stockton Hyundai encourages first responders in the area to take advantage of these deals as it is the company's way of giving back. Drivers who are eligible to receive these benefits can find more information on the Emergency Responder Program by visiting the Stockton Hyundai website at https://www.stocktonhyundai.com/, or by visiting the store's location in Stockton, CA.