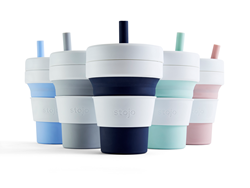 NEW YORK (PRWEB) November 08, 2018
In order to offer more eco-friendly options to consumers, retailer b8ta has announced they will be carrying stojo collapsible coffee cups in their Santa Monica, Houston, and Brookfield locations. Stojo, a leak-proof, collapsible, reusable coffee cup, initially began as a Kickstarter campaign, before securing distribution with MoMA, and later forming partnerships with Sur La Table, Bloomingdales, and Bed Bath & Beyond, amongst others. Stojo products sold in b8ta stores will include reusable cups from its exclusive Brooklyn Collection.
b8ta, who prides itself on its Retail-as-a-Service model, carefully curates products based on emerging trends and technology. Similarly, b8ta stores encourage customers to interact with products, leading to a more hands-on approach than traditional retailers. b8ta currently has 13 flagship locations and seventy shop-in-shops across the United States.
"We're thrilled to be offering stojo's unique, eco-friendly coffee cup in b8ta locations," said Roddey Ackerman, Senior Partnerships Manager of b8ta. "While not only is a collapsible cup great for travelers or business people on the go, we are starting to see the necessity and demand for more eco-friendly products in our stores. We're excited to offer stojo reusable cups to our customers."
While stojo cups can be found at select retailers such as b8ta, the company also partners with corporations like Facebook and Goldman Sachs, and workspaces like WeWork to offer stojo cups to employees and tenants. Given that the average office worker consumes 500 cups of coffee annually, partnerships like these increase corporate sustainability, while also reducing overall office supply and trash management costs.
"Since 2015, stojo has produced and sold nearly 1,000,000 cups. This has resulted in hundreds of millions of disposable cups never reaching our landfills," said Jurrien Swarts, CEO of stojo. "We're very proud of this. Personally speaking, I'm doing this to ensure my children inherit a better planet. We would never have been able to meet such a milestone without partners like b8ta who believe in the importance of offering fun, stylish, but also eco-friendly solutions to their customers. b8ta's fun, experimental stores also serve as the perfect place to showcase our innovative product and raise awareness around the positive environmental impact individuals can make through simple changes in their daily routines, like switching over to reusable cups. We're incredibly excited to be working together."
About stojo:
Stojo is an ultraportable, leak-proof, collapsible, and reusable cup. Designed by coffee lovers, it's a convenient alternative to bulky travel mugs and better for the environment than disposable cups. Made from food grade, recyclable materials, stojo is on a mission to end disposable cup use with its collapsible, to-go cup that is easy to clean and store. Stojo products are currently found across the globe in retail locations such as Sur La Table, Bloomingdales, and Bed Bath & Beyond, amongst others. You can learn more at http://stojo.co.
About b8ta:
b8ta, a software-powered retailer designed to make physical retail accessible for all, was founded in 2015 by Nest alums Vibhu Norby (CEO), William Mintun (EVP of Operations), and Phillip Raub (President). b8ta helps people discover, try, and buy about new tech products while empowering makers with a simple Retail as a Service model that puts them in control. b8ta has locations in San Francisco, Santa Monica, New York City, among others. The company is headquartered in San Francisco.
Media Contact for stojo:
Tyler Allen
tyler@scoutlab.co