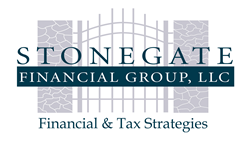 Scottsdale, Arizona (PRWEB) September 16, 2014
Stonegate Financial Group knows that one of the biggest things that people struggle with financially is setting financial goals for themselves and sticking to a budget. Without the proper plan, saving money can seem like an impossible feat, but with the right information, saving for both long-term and short-term goals is achievable. It is for this reason that Stonegate Financial Group is sharing some tips for determining and achieving short-term financial goals.
1. Know what a short-term financial goal is.
When it comes to setting financial goals, it is important to differentiate between short-term goals and long-term goals. Short-term goals are saving for things like a wedding, taking a vacation, doing home improvements, healthcare costs and more. A long-term goal includes buying a home or car, saving for college or saving for retirement. There are different ways to save for both types of goals, so it is imperative that savers know the difference between the two shares Stonegate Financial Group.
2. Make a list.
In order to keep all of one's financial goals in order, one of the best things to do is to make a list. Once every goal has been listed, it is much easier to allocate funds towards each and know how much must be saved in order to achieve these goals. Additionally, a timeline should be given to each financial goal. In terms of saving up for an expensive vacation, a small amount of money can be set aside each month for a year in order to have enough to take a vacation in a year's time. This same principle can be applied to other short-term financial goals reveals Stonegate Financial Group.
3. Separate the money.
Saving up for short-term goals is oftentimes easier to organize when there is a separate account or place that the money is stored. Instead of putting all of the money for each and every short-term goal into a general savings account, Stonegate Financial Group encourages setting up a separate account in an individual's online banking platform and labeling it according to their short-term financial goals.
For more information on saving for the future, visit the professionals at Stonegate Financial Group by visiting http://stonegatefg.com.