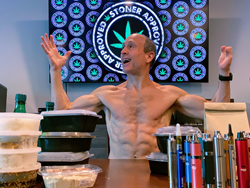 WASHINGTON (PRWEB) August 11, 2020
Stoner Food Critic Joel Haas has done his part in trying to keep the hospitality industry afloat amid the coronavirus. The 51-year-old Washington D.C. resident wanted to do anything he could to help highlight the fact that so many restaurants are struggling.
"The restaurants are doing their thing and really finding their rhythm to adapt to the new world," Haas said. "People have been really appreciative of me ordering takeout and coming out, supporting them and giving them advice as well. I just want to help support in any way I can because we're all trying to figure this out."
Before the pandemic, Haas was traveling the country creating content for his High Speed Dining and Inhaling America video podcast — in which he gets high on legal, recreational cannabis and eats at premier restaurants around the country. Haas produced more than 100 Stoner Approved episodes in the podcast's first year, chronicling 600 meals at 315 restaurants in 17 states.
Food and fitness go hand and hand for Haas. He not only walks 10 miles a daily but lifts weights in order to burn off all the delicious calories. He thinks of what he does as fine dining for sport and typically eats at Michelin star restaurants but is enjoying a different side of the food business in 2020. He's experienced an incredible rise in the quality and convenience of takeout food that previously wasn't available to him.
"Before, you'd have to make reservations sometimes months in advance to get into some of these places," Haas said. "A lot of these restaurants would have never done takeout before. Now, you're able to get the greatest quality and variety of food delivered to your door in an hour."
Haas has eaten exclusively restaurant food since the pandemic began. He's placed over 175 orders from 72 local D.C. restaurants, totaling more than 450 meals and counting. He's spent more than $33,000 supporting the hospitality industry, and tips generously. And through it all, he's spread the word about some of these restaurants while producing some unique and creative videos. Out of the 72 restaurants Haas ordered from only a hand full even offered delivery options prior to the pandemic. This speaks volumes of the ever-changing restaurant business during this nationwide pandemic.
It took him just 72 days to complete his Takeout A-Z Challenge, in which he ordered from restaurants that start with every letter of the alphabet. Haas challenges others around the country to do the same to support their local restaurants. He's also supported and donated to a handful of local food banks and charitable organizations, not only in D.C. but across the country in cities he's visited. He's given over $6,300 in donations to 24 locations in 17 states during the pandemic — including Canada.
"I just like knowing that I'm helping put food in people's stomachs if I can," Haas said. "In these tough times, everybody needs help and if there was ever a time in my lifetime to help out others, this is the situation to do so."
Haas is going 150 days before he even thinks about taking his first takeout break – which is approaching on August 13th.
"That's five months of eating nothing but fine dining restaurant food. Who's done that? And I'm in great shape!" Haas said with a chuckle. He also referenced the famous documentary Super Size Me, which contained 30 days of footage. Haas has five months' worth of footage, giving him more than 450 meals that he's chronicled.
"I am trying to figure out how to produce it and who to partner up with because I can produce this in so many ways," Haas added. "It can be marijuana heavy, it can be food heavy but I'm hoping to find a partner to produce this based on their needs."
Until then, Haas will continue supporting local restaurants, donating to cities throughout the country and getting legally high – doing his part to help buoy the economy.
About Joel Haas, Stoner Food Critic
Joel Haas gets high on legal, recreational cannabis and eats at premier restaurants around the country. He's produced more than 100 episodes in his podcast's first year, chronicling 600 meals at 315 restaurants in 17 states. Each episode has original marijuana, food, music and Stoner Approved ringtones, text tones, alerts and alarms as sound effects and the soundtrack. iPhone owners can personally get their hands on them on his website stonerfoodcritic.com. Since 2015, he's had at least 2,250 meals at more than 730 fine dining establishments, covering 22 states and several countries. His High Speed Dining and Inhaling America video podcast has been his way of documenting more than 2,250 stoned meals in the last five and a half years. For more information on Joel Haas, the Stoner Food critic, please visit stonerfoodcritic.com.