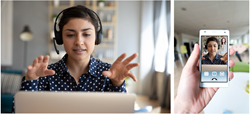 We've trained all our design consultants on how to conduct virtual design consultations using their computers and the customers' smartphones
DENVER (PRWEB) March 27, 2020
Stoneside Blinds & Shades, a leader in providing residential and commercial clients with comprehensive five-star service, continues their commitment to quality customer care by offering free virtual design consultations. Anyone who needs to stay indoors during this time has access to a safe and rewarding experience while shopping for custom window coverings.
Typically, Stoneside designers meet with clients in their homes and offices during the initial consultation. With the onset of the COVID-19 outbreak, the company decided to offer consultations via the free, easy-to-use video conferencing platform Zoom. This service allows Stoneside to comply with current government policies on coronavirus and makes the safety of customers and employees a top priority.
The company is open for business during this unprecedented period and will return to in-home consultation services when deemed appropriate. For now, Stoneside's focus is on transferring its luxury shopping experience to the virtual space by implementing new technologies to conduct business in new ways.
"We've trained all our design consultants on how to conduct virtual design consultations using their computers and the customers' smartphones," says Stoneside President and CEO Mickey Fain. "This technology is allowing us to talk to our customers, walk through their homes, help them measure their windows, and create a design plan, all online. We then follow up by sending material swatches so that they can view the materials and fabrics in their home and finalize their selection...Our customers are loving it."
Since its founding in 2009, Stoneside's mission has been to provide clients with high-quality, custom window treatments and first-rate, concierge-level design and installation services. The addition of free video design consultations is one more example of how Stoneside continues to connect with customers and provide them with the best solutions for custom window treatments.
About Stoneside: Stoneside Blinds & Shades is the #1-rated full-service window covering company in America based on customer reviews. The Denver-based company's mission is to deliver a five-star, full-circle experience to its teammates, clients, and partners. Stoneside specializes in offering a wide selection of durable, high-quality window coverings that are all manufactured in America. With 86 locations in 10 states and the District of Columbia, Stoneside is the fastest-growing custom window covering company in America serving residential and commercial customers. For more information, call 877-340-0158 or visit stoneside.com.
Mickey Fain
President & CEO
marketing@stoneside.com
http://www.stoneside.com