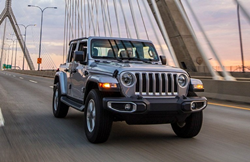 STONY PLAIN, Alberta (PRWEB) November 30, 2020
Jeep models are well-known for their off-road performance and powerful powertrains. With their 2021 model lineup being released to the public, Stony Plain Chrysler has several new models available for purchase. These options include various trim levels of the 2021 Jeep Wrangler, the 2021 Jeep Compass and the 2021 Jeep Gladiator.
As one of the flagship models for Jeep, the 2021 Jeep Wrangler is now available at Stony Plain Chrysler. Available in several trims, the model has added even more features to its lineup. Two new powertrains can be equipped on the model, including a plug-in hybrid engine and a 6.4-liter HEMI® V8 engine. The V-8 engine can produce up to 470 horsepower and 470 ft-lbs of torque. Both two-door and four-door models are available now at the dealership.
Another model currently on the Stony Plain Chrysler lot are several 2021 Jeep Compass models. One change to the model comes in its Limited and Trailhawk trim levels. Both options receive added advanced safety features. Meanwhile, the dealership currently has three Altitude trim levels that come with four-wheel drive. Such models can receive up to an estimated combined 25 miles per gallon.
Lastly, Stony Plain Chrysler has several 2021 Jeep Gladiators in stock. Considered the manufacturer's lone pickup truck, the new 2021 vehicle now has an available 3.0-liter EcoDiesel V-6 engine. Each model at the dealership has the offering, which allows them to receive a best-on-Class 442 pound-feet of torque and an estimated 28 miles per gallon on the highway.
Customers interested in purchasing any new 2021 Jeep models can find select options currently at Stony Plain Chrysler. The dealership can be reached over the phone at 587 760-1500 or online at https://www.stonyplainchrysler.ca. However, the inventory can also be seen in person in accordance with social distance guidelines the dealership has in-place. Stony Plain Chrysler is located at 4004 51 Street.