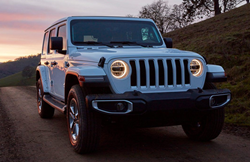 STONY PLAIN, Alberta (PRWEB) May 26, 2020
To ensure that a vehicle runs strong for many years, it's very important to keep it well-maintained and promptly address any repair issues. Stony Plain Chrysler, a dealership with a reputation for excellent customer services, offers worry-free maintenance for Chrysler, Dodge, Jeep and RAM owners.
Automotive maintenance can be a stressful endeavor, but Stony Plain Chrysler helps alleviate this burden with its highly trained technicians, use of state-of-the-art diagnostic equipment, and an emphasis on high-quality service. Also, Stony Plain Chrysler is sensitive to the needs of customers with their busy lives, so the dealership works very efficiently to complete service appointments as quickly as possible.
Another benefit of the Stony Plain Chrysler Service Center is the complimentary DOOR-TO-DOOR pickup and drop off for automotive service. Customers don't ever have to leave their home when getting their car serviced. They can just schedule a service appointment and pay online. Also, Stony Plain Chrysler sanitizes a vehicle after they complete the service work and before returning it to a customer.
Stony Plain Chrysler can handle any type of service for Chrysler, Dodge, Jeep, and RAM vehicles. Whether its routine maintenance like oil changes and tire rotations or significant issues like major repairs, automotive customers can have of the peace of mind of knowing that their vehicle is in good hands. Stony Plain Chrysler often has money-saving service specials, such as oil changes starting at $39.95. Additionally, customers that like to do their own automotive work can conveniently order and pay for parts online from Stony Plain Chrysler. The dealership can then deliver the parts directly to the home of a customer.
For more information about the services at Stony Plain Chrysler, customers can visit the dealership's website at http://www.stonyplainchrysler.ca or call (587) 760-1498.
Stony Plain Chrysler is located at 4004 51 Street in Stony Plain.