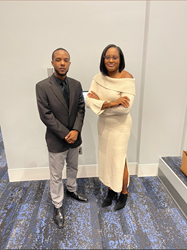 "We are ready to fight for Atlanta and not over Atlanta; Our leadership together is a powerful duo……. VOTE DUNN GET 2 FOR ONE" - Kirsten Elise Dunn
ATLANTA (PRWEB) October 28, 2021
VOTE DUNN = 2 for 1…….Mayoral Candidates Join Forces in the Atlanta Mayoral Race
Mayor Elect Candidates Roosevelt Searles and Kirsten Elise Dunn have decided to join forces in the race to become the 61st Mayor of Atlanta, Georgia.
Searles provided Dunn with an endorsement letter endorsing her as Mayor.
"It is my pleasure to announce my endorsement for Kirsten Dunn for Mayor of Atlanta. Our leadership for the city will be so impactful and the work to be done is vital!"
Searles made the final decision to endorse Candidate Dunn after attending the FREE Recession Proof your business class Dunn hosted on Friday, October 22nd.
Searles stated, "I previously considered uniting with Candidate Dunn prior to the meeting; I wanted to see her plans for the city. Friday I heard her passion and plans to support small businesses in Atlanta .......I was convinced."
Dunn expressed, "It is an honor to receive the endorsement of Mr. Searles. Throughout this campaign process I have grown a massive amount of respect for several candidates. My entire focus on this campaign has been to create more UNITY in the city of Atlanta. Our number one problem in Atlanta is we are too divided. Together we are truly better.
As I receive the privilege of being the 61st Mayor of Atlanta I look forward to Mr. Searles serving as my Deputy Mayor."
Together Dunn and Searles have created the #Reclaim Atlanta Plan. A beautifully crafted mix between Dunn's One Atlanta Plan and Searles Reclaim Atlanta Plan.
"Under my leadership as Mayor, all plans from all the leaders that have been running for office will be discussed and merged together then presented to the citizens of Atlanta. We are truly One Atlanta! We all feel passionate about the city we love. Atlanta deserves a leader like me that will influence inclusion and give a platform and space for all the leaders in the city to lead.
When You Vote for Dunn you get 2 for 1. Mr. Searles and myself are real life trail blazers."
The Dunn For Mayor Campaign is prepared to continue to run a community service campaign through a run off, if one is to occur.
November 12th, 2021 - FREE Recession Proof Your Business Class
https://www.eventbrite.com/e/free-business-training-recession-proof-your-business-session-ii-tickets-199687730377
Donations will be accepted for this class. All Donations will go to fund the Heaters for the Homeless Showers being released in downtown Atlanta, November 20th. Business owners and those interested in starting a business can register at Kirstendunnformayor.com