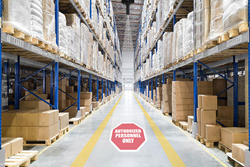 These new virtual line/sign options provide a bright, easy-to-see message exactly where you need it.
WAKE FOREST, N.C. (PRWEB) February 13, 2020
Stop-Painting.com is now offering Gobo projectors and LED and Laser line projectors to create virtual floor marking images and virtual lines in your facility. Easy-to-install virtual sign and line projectors are the perfect solution for areas where traditional floor marking does not work.
These tricky locations may include hard-to-reach floor space or an area where heavy traffic makes constant floor marking maintenance necessary – even for the world's toughest floor signs and floor tape.
Here are some ways you can use a virtual line or image projector:

Use to project a floor sign to inform/remind employees about potential hazards like forklift traffic, restricted area or the need to use PPE.
Use to increase safety by creating a crosswalk in an area with a mix of heavy pedestrian traffic and mobile equipment.
Use to project lines for walking paths in a variety of colors.
Use to project a logo or message to customers in a retail environment, gymnasium or restaurant. Can be temporary, as in for a limited campaign.
These new virtual line/sign options provide a bright, easy-to-see message exactly where you need it. When you no longer need the message to appear, simply turn the projector off or change to a different image.
Using these state-of-the-art Gobo projectors is simple. A Gobo projector is best for displaying images. We can offer a standard safety floor sign message or help you create a custom projected message that fits your needs. An LED or Laser projector is best to display a long, solid line. We have available a wide range of projectors with differing levels of light that can illuminate your message from a distance of 4 feet to 18 feet away.
Come see these virtual products at our booth at MODEX (booth #7359) March 9-12 in Atlanta, and at Pack Expo East (booth #803) March 3-5 in Philadelphia.
You can view our Gobo, laser line and LED line projector products online at http://www.stop-painting.com or call us at 919-569-6765 and one of our visual organization experts will help you find the best product for your needs.
About Stop-Painting.com:
Stop-Painting.com is the industry leader for floor and pavement marking products and safety signs. The company's vast inventory of products includes rolls of tape, footsteps, pallet corner markers, directional arrows and many more visual cues that increase workplace safety and productivity.
CONTACT INFORMATION:
Cliff Lowe, InSite Solutions Managing Director
PHONE: 919-569-6765/919-757-5428 | EMAIL: Cliff@stop-painting.com