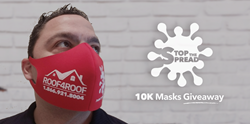 "We all need to make a living but we also want to make a difference." - Chuck Anania. -
CARLSTADT, N.J. (PRWEB) May 07, 2020
On Saturday, May 9th from 9:00 am - 2:00 pm, ROOF4ROOF, a residential and commercial remodeling contractor based in Carlstadt NJ, will be giving away 10,000 masks in an effort to help the community 'Stop the Spread' of Covid-19 at its Main Office (520 Route 17 South, Carlstadt, NJ) and at
Lowe's East Rutherford (150 Route 17 North, East Rutherford, NJ). We will begin distributing some of these masks to local businesses and municipalities May 6-8.
"Since NJ and NY are the areas impacted most by the virus, we decided that giving away reusable, washable masks was the best way we could help our families and community keep the spread minimized. We realize that we still have months of uncertainty and sacrifices ahead, but we will remain safe, vigilant and Jersey Strong."
Over the last 10 years, Roof4Roof and its founder, Chuck Anania, has provided free roofing, emergency home repairs and other assistance to over 1,000 families, in New Jersey and overseas.
For further information or questions, please contact Chuck Anania directly.
Press Assets Resource Here
Visit the 'Stop the Spread' Official Site HERE.