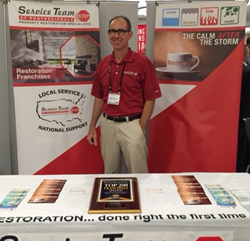 The STOP team is still fully in place and the level of support to our system is laser focused.
Bloomington, Indiana (PRWEB) May 16, 2017
Mack Clark, Founder of Service Team of Professionals ("STOP"), a full service water damage and restoration franchise, has announced that the leadership reigns were turned over to Brian B. Clark on April 1, 2017. Brian has assumed the position of President. This puts franchise headquarters in Bloomington, Indiana. STOP's training facility will remain in sunny Southern California.
Brian brings with him nearly 27 years of service with STOP. Brian was responsible for the company's transition from consulting to franchising and oversaw the preparation of the first Franchise Disclosure Document and for the brand's federal and state compliance since the move to franchising.
Brian has been steering the franchisor's franchise development and franchisee support initiatives for years. With renewed vision and investment, the pace of innovations coming to STOP will accelerate over the next few years.
"I am really excited about the direction of the STOP Franchise System," said Brian. "The STOP team is still fully in place and the level of support to our system is laser focused. We are on a record-breaking growth pace this year. I know I speak for the entire team (Daren Clark, Tina Farrell, Carey Linneweber and Scott Tarpley) as we congratulate Mack in his semi-retirement as we continue to grow the franchise system."
About the STOP Franchise Opportunity
STOP support spans the time zones with Headquarters in Bloomington, Indiana and staffed training facilities in Temecula, California. STOP has been a leader in the franchise restoration space for nearly 20 years and has operations in 20 states. STOP's 3-stage marketing plan addresses local relationships, preferred vendor lists and local digital marketing..
Franchisees are specially trained to handle the complexities of disaster situations; and STOP has helped an estimated 167,000 homes and business owners recover from a range of water, fire, indoor environmental issues such as mold, and other property damage since their founding.
For additional information on franchising, contact John Armatas at 855.844.8377 or visit STOP's franchise website at http://www.stoprestorationfranchising.com.