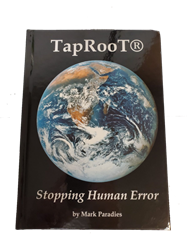 Stop the human errors that cause major accidents through proven techniques to improve quality, equipment reliability, regulatory performance, human reliability, schedule performance, production, and service, as well as cost reduction.
KNOXVILLE, Tenn. (PRWEB) July 13, 2020
System Improvements Inc. is pleased to announce its newest TapRooT® Root Cause Analysis book and training course, Stopping Human Error.
System Improvements President Mark Paradies, author of the Stopping Human Error book, observes, "Try the proven human performance best practices in this book. They are based on human factors research, proven in the field. Can we stop all human errors? The answer is no. But you can stop important errors, make other errors less likely and easy to catch, and add defense in depth to stop major accidents.
"At the end of this book, you will have the knowledge you need to develop a custom program to improve human performance in your organization and stop many important human errors. What can this save your company? Billions. It can prevent fatalities, stop quality issues, improve equipment reliability, and reduce the chance of regulatory fines. That means this book is well worth your time to read."
TapRooT® Instructor Alex Paradies will teach the Stopping Human Error course in Knoxville, Tenn. on September 15-16, 2020. Paradies comments, "You will leave this course with a clear understanding of methods to improve human performance and a custom plan to apply those methods at your company to achieve great gains in safety, quality, or operational and maintenance performance (all of which depend on human performance). With course exercises designed to try some of the techniques, this will be an active, quick-moving two-day course."
TapRooT® is a systematic process, software, and training for finding the real root causes of problems. It is used by leading companies around the world to investigate and fix the root causes of major accidents, everyday incidents, minor near-misses, quality issues, human errors, maintenance problems, medical mistakes, productivity issues, manufacturing mistakes, environmental releases … in other words, all types of mission-critical problems.
For details or inquiries about the TapRooT® System, call System Improvements Inc. at 865-539-2139, or contact us online at http://www.taproot.com/contact/.
Learn more about TapRooT® at http://www.taproot.com. Purchase the Stopping Human Error book through the TapRooT® Store, or register for the Stopping Human Error TapRooT® course.
About System Improvements Inc. – TapRooT® Root Cause Analysis Training
Founded in 1988, TapRooT® solves hurdles every investigator faces. TapRooT® root cause analysis takes an investigator beyond his or her knowledge to think outside the box. Backed with extensive research in human performance, incident investigation, and root cause analysis, TapRooT® is a global leader in improved investigation effectiveness and productivity, stopping finger pointing and blame, improving equipment reliability, and fixing operating problems.