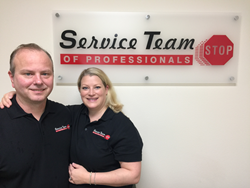 Restoration is about project management and STOP has the systems and experience taht willhelp us grow in the industry.
Temecula, CA (PRWEB) March 02, 2017
Lauren Bickel and Abe Dawson have signed a franchise agreement with STOP and will bring over fifteen years of project management and business operations experience in the private sector to the community in Charleston County, South Carolina.
"Restoration is about project management" said Lauren. "And STOP has the systems and experience that will help us use our existing skills and apply them to the restoration industry. We would never wish any form of property damage to anyone's home or business—but it is good to know that if it does happen, that STOP has a history of managing the entire job."
"Lauren and Abe's 15 years of business operations experience gives STOP a quality team of professionals to serve the Charleston County area" said Brian Clark, VP of STOP's franchise development. "I think what they really liked about STOP was our attentive culture and focus on teamwork and project management. It seemed to fit with their personal business philosophy." STOP has a 20+ year history of working with local customers and the insurance industry to solve problems created by catastrophes, regardless if it is water damage stemming from a pipe break or serious structural damage created by a fire. "We stress to our customers that we will get them back to their normal daily routine fast" added Clark.
The Bickel-Dawson team will be helping families and business owners in and around the Charleston County, South Carolina area. As with all STOP locations, they will be offering 24-Hour Service, 365 days per year. "Disasters take no days off" said Abe Dawson. "Our team is prepared to help families and businesses when the need arises. We know we made the right choice to join the STOP Franchise system and we are excited to get to work in our community."
About STOP Service Team of Professionals Franchise
Headquarted in Temecula, California—STOP has been a leader in the franchise restoration space for nearly 20 years and has operations in 21 states throughout North America. Franchisees are specially trained to handle the complexities of disaster situations. STOP has helped an estimated 167,000 homes and business owners recover from a range of water, fire, indoor environmental issues and disasters since their founding. For additional information on franchising, contact John Armatas at 855.844.8377 or visit our franchise website at http://www.stoprestorationfranchising.com