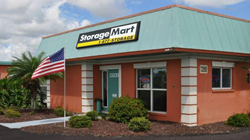 Columbia, MO (PRWEB) June 15, 2016
StorageMart, the largest privately-owned storage company with more than 11.5 million square feet of self storage is pleased to announce the purchase of 13990 McGregor Blvd. in Fort Myers, FL. This is the ninth StorageMart in Florida and the 172nd in its portfolio in the United States and Canada.
"This off-market transaction fits perfectly into our middle-market strategy," said Mike Burnam, Chief Executive Officer of StorageMart. "We'll continue to look for new markets as opportunities like this present themselves."
To provide customers a clean and easy self storage experience, StorageMart will upgrade the facility by repainting the nine-building property, improving exterior lighting, repaving the parking lot, and creating a second entrance to the property. "The second gated entrance will make it easier for customers to access their units," said Weyen Burnam, Vice President of Development and Acquisition at StorageMart. "We want each and every customer to enjoy the benefits of Fort Myers storage with us."
"We'll also increase the number of units slightly and renovate the sales office," Burnam said. The site currently has 31,000 square feet of storage in 375 storage units and parking spaces.
StorageMart promises to provide an excellent self storage experience to every customer and they back that up with their 100% Satisfaction Guarantee, which states that if you're unsatisfied for any reason, you get a free month of storage.
StorageMart is also one of the largest providers of renewable energy in the self storage industry, helping to generate solar energy in the United States and Canada.
About StorageMart
StorageMart, founded in 1999, is the largest privately-owned storage company, with more than 170 self storage facilities throughout Canada and the United States. The company supports the many communities it calls home through sponsorship and in-kind donations. Charitable partners include: Charity Storage, The Red Cross, Skate to Great, local humane shelters, women's shelters, foster care and adoption associations, festivals and more.
###