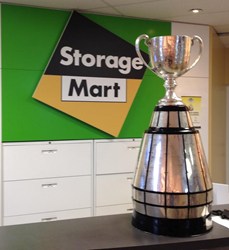 Toronto, Ontario (PRWEB) July 24, 2013
StorageMart (a full-service self storage company with more than 130 locations across the United States and Canada), the leading provider of self storage in Toronto, is excited to announce an opportunity for three individuals to win tickets to see the defending Grey Cup Champion Toronto Argonauts in action.
StorageMart will be giving away three pair of tickets to see the Toronto Argonauts host the Edmonton Eskimos on Sunday, August 18 at the Rogers Centre. Entries can be made via StorageMart's official Twitter feed (http://www.twitter.com/StorageMart) by re-tweeting any post referencing the ticket giveaway.
Entries will be accepted until 9:00 a.m. (Central Standard Time) on Monday, August 12. Winners will be notified via e-mail thereafter.