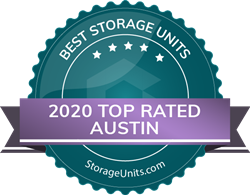 ADDISON, Texas (PRWEB) June 29, 2020
StorageUnits.com, a reliable and easy guide for the most convenient, secure, and affordable storage facilities, has announced the Best Self-Storage Units in Austin, TX. The research identifies 18 top storage unit facilities in the city based on reputation, affordability, proximity and more.
In addition to customer reviews, accreditation and expertise, StorageUnits.com evaluated each facility across 25 metrics and five main categories. Results were analyzed for 141 facilities in the Austin area with only 18 making the final list. Consumers can access the listing for quick, clear summaries to help them find quality, affordable storage options nearby.
"Our goal is to simplify the process by helping people find the best storage solutions to meet their needs," says Daniel Cobb, Co-Founder. "Whether they're relocating or just need extra space at home, our guide is a quick and trusted resource for quality storage facilities in convenient locations."
In addition to traditional self-storage solutions, StorageUnits.com also provides information and tools for full service storage, car storage, boat storage as well as moving solutions. The website enables consumers to compare the best options in various cities across the United States.
To access the complete listing of Best Self Storage Units in Austin, TX please visit https://www.storageunits.com/austin-tx-self-storage/
2020 Best Self Storage Units in Austin, TX
A-Austin Storage
512-887-5131
1805 Frontier Valley Dr, Austin, TX 78741
AAA Storage
512-501-2666
Multiple Locations
All Stor Self Storage
512-817-3131
Multiple Locations
Antler Mini Storage
512-246-6217
Multiple Locations
ATX Self Storage
512-366-5433
6901 N Interstate Hwy 35, Austin, TX 78752
Burnet Road Self Storage
512-453-6302
6400 Burnet Rd., Austin, TX 78757
Guard Dog Self Storage
512-295-3333
850, FM2001, Buda, TX 78610
Lakeline Storage
512-219-9988
11000 Lakeline Blvd., Austin, TX 78717
Lone Star Self Storage
512-444-4232
403 E. Ben White Blvd., Austin, TX 78704
My Storage Hero
512-493-8099
2401 Double Creek Dr. Suite 250, Round Rock, TX 78664
Security Self-Storage
800-635-3130
Multiple Locations
St Elmo Storage
512-502-5335
405 E St Elmo Rd., Austin, TX 78745
Stor Self Storage
512-687-9143
Multiple Locations
Storage Town USA
512-251-4162
13107 Dessau Rd, Austin, TX 78754
Store It All Self Storage Westlake
512-774-6828
1500 Village West Dr., Austin, TX 78733
U-Lock It Storage
512-321-2370
304 Highway 21 W, Cedar Creek, TX 78612
Watson & Taylor Self Storage
512-487-7078
Multiple Locations
Your Austin Storage
512-335-1500
Multiple Locations
About StorageUnits.com
StorageUnits.com is a simple solution to helping people find the most convenient, secure, and affordable storage facilities. The website allows consumers to compare the best storage options wherever they are in the United States; whether it's traditional self-storage or a full-service storage and moving solution. The company is based in Addison, Texas and was founded on the principle that packing and moving valuables is stressful enough – choosing a storage unit should be a simple, quick process. For more information, visit https://www.storageunits.com/.