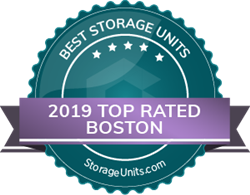 ADDISON, Texas (PRWEB) September 10, 2019
StorageUnits.com, a reliable and easy guide for the most convenient, secure, and affordable storage facilities, has announced the Best Self-Storage Units in Boston, MA. The research identifies 34 top storage unit facilities in the city based on reputation, affordability, proximity and more.
In addition to customer reviews, accreditation and expertise, StorageUnits.com evaluated each facility across 25 metrics and five main categories. Results were analyzed for 116 facilities in the Boston area with only 34 making the final list. Consumers can access the listing for quick, clear summaries to help them find quality, affordable storage options nearby.
"Our goal is to simplify the process by helping people find the best storage solutions to meet their needs," says Daniel Cobb, Co-Founder. "Whether they're relocating or just need extra space at home, our guide is a quick and trusted resource for quality storage facilities in convenient locations."
In addition to traditional self-storage solutions, StorageUnits.com also provides information and tools for full service storage, car storage, boat storage as well as moving solutions. The website enables consumers to compare the best options in various cities across the United States.
To access the complete listing of Best Self Storage Units in Boston, MA, please visit https://www.storageunits.com/boston-ma-self-storage/
2019 Best Self Storage Units in Boston, MA
222 Central Storage
781-231-5990
222 Central St, Saugus, MA 01906
Affordable Angels Moving & Storage
617-301-3444
10 Penniman Rd, Allston, MA 02134
Arty's Warehouse
781-538-6123
39 Crosby Drive #2 Bedford, MA 01730
Ashmont Self Storage
781-297-7277
1204 Washington Street Stoughton, MA 02072
Bourbon Street Mini Storage
978-535-0001
3 Bourbon St #5, Peabody, MA 01960
Bunker Hill Moving Company
617-481-9718
188 Sea St, Quincy, MA 02169
Burlington Self Storage
781-819-5648
35 Ray Ave, Burlington, MA 01803
Cambridge Self Storage
617-876-4417
445 Concord Ave, Cambridge, MA 02138
Castle Self Storage
617-712-2381
39 Old Colony Avenue Boston, MA 02127
Charlestown Self Storage
617-241-5550
50 Terminal St, Charlestown, MA 02129
Comeau's Mini Storage
781-233-4777
20 Walden Pond Ave, Saugus, MA 01906
Discount Self-Storage
617-657-6789
169 Parkingway, Quincy, MA 02169
Downtown Ministorage, Inc.
508-697-7700
31 Perkins St, Bridgewater, MA 02324
Extra Space Storage
781-391-0117
970 Fellsway, Medford, MA 02155
EZ Storage
617-244-3100
300 Needham St, Newton, MA 02464
Gentle Giant Moving Company
800-442-6863
29 Harding Street Somerville, MA 02143
John Palmer Moving & Storage
978-264-4221
7 Craig Rd, Acton, MA 01720
Kane Self Storage
508-481-2992
55 Maple Street Marlborough MA 01752
Longwood Storage Company
617-277-9500
5 Station St, Brookline, MA 02445
Lowell Mini Storage
978-453-8206
3 Foundry Industrial Park, Lowell, MA 01852
Mark's Moving & Storage, Inc.
800-966-6275
111 Milk St, Westborough, MA 01581
McCarthy Self Storage
781-396-7724
22 Harvard St, Medford, MA 02155
Middleton Self Storage
978-777-2929
6 Lookout Ln, Middleton, MA 01949
Nick\'s Moving Company
617-491-7700
129 Mt Auburn St, Cambridge, MA 02138
Prime Storage
978-756-3166
27 Congress St, Salem, MA 01970
Roslindale Self Storage
617-983-2100
44 Lochdale Rd, Roslindale, MA 02131
Store Rooms Self Storage
508-802-5160
928 Boston Post Road Marlborough, MA 01752
The Storage Bunker
781-350-5367
20 Sycamore Ave, Medford, MA 02155
Value Store It Self Storage
617-505-5285
1356 Commonwealth Ave, Allston, MA 02134
Walk-In Closet Self Storage
781-878-9922
179 Washington Street Norwell, MA 02061
Wayside Compartments
781-324-4858
1 Wesley St, Malden, MA 02148
West Bridgewater Self Storage
508-524-4224
359 Pleasant St, West Bridgewater, MA 02379
Westboro Self Storage
508-366-6289
3 Research Dr, Westborough, MA 01581
Wilbraham U-Store-It
413-543-2222
2033 Boston Rd, Wilbraham, MA 01095
About StorageUnits.com
StorageUnits.com is a simple solution to helping people find the most convenient, secure, and affordable storage facilities. The website allows consumers to compare the best storage options wherever they are in the United States; whether it's traditional self-storage or a full-service storage and moving solution. The company is based in Addison, Texas and was founded on the principle that packing and moving valuables is stressful enough – choosing a storage unit should be a simple, quick process. For more information, visit https://www.storageunits.com/.