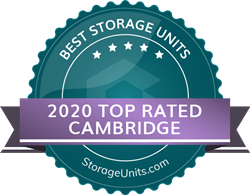 ADDISON, Texas (PRWEB) November 24, 2020
StorageUnits.com, a reliable and easy guide for the most convenient, secure, and affordable storage facilities, has announced the Best Self-Storage Units in Cambridge, MA. The research identifies 18 top storage unit facilities in the city based on reputation, affordability, proximity and more.
In addition to customer reviews, accreditation and expertise, StorageUnits.com evaluated each facility across 25 metrics and five main categories. Results were analyzed for 171 facilities in the Cambridge area with only 18 making the final list. Consumers can access the listing for quick, clear summaries to help them find quality, affordable storage options nearby.
"Our goal is to simplify the process by helping people find the best storage solutions to meet their needs," says Daniel Cobb, Co-Founder. "Whether they're relocating or just need extra space at home, our guide is a quick and trusted resource for quality storage facilities in convenient locations."
In addition to traditional self-storage solutions, StorageUnits.com also provides information and tools for full service storage, car storage, boat storage as well as moving solutions. The website enables consumers to compare the best options in various cities across the United States.
To access the complete listing of Best Self Storage Units in Cambridge, MA please visit https://www.storageunits.com/cambridge-ma-self-storage/
2020 Best Self Storage Units in Cambridge, MA
222 Central Storage
781-231-5990
222 Central Street Saugus, MA 01906
Advantage Self Storage
978-226-1140
4 Jefferson Avenue Salem, MA 01970
Bourbon Street Mini Storage
978-535-0001
3 Bourbon Street Peabody, MA 01960
Cambridge Self Storage
617-876-4417
445 Concord Avenue Cambridge, MA 02138
Castle Self Storage
617-712-2381
39 Old Colony Avenue Boston, MA 02127
Easi Self-Storage
978-741-4774
392 Highland Avenue Salem, MA 01970
Ez Storage Of Newton
617-244-3100
300 Needham Street Newton Upper Falls, MA 02464
Planet Self Storage
617-297-9887
250 Woodrow Avenue Boston, MA 02124
Pride Self Storage
781-676-3235
2 Centre Street Wakefield, MA 01880
Prime Storage - Boston
617-300-0488
100 Southampton Street Boston, MA 02118
Public Storage - Everett
617-539-7666
1901 Revere Beach Parkway Everett, MA 02149
Roslindale Self Storage
617-983-2100
44 Lochdale Road Boston, MA 02131
Stor-U-Self of West Roxbury
617-751-6950
99 Rivermoor Street Boston, MA 02132
Storage Plus Boston
781-899-7020
37 River Street Waltham, MA 02453
Storage Sense of Peabody
978-818-6062
119 Foster Street Peabody, MA 01960
Storage Unlimited Burlington
339-209-0703
17 Terry Avenue Burlington, MA 01803
The Storage Bunker
781-350-3042
20 Sycamore Avenue Medford, MA 02155
US Storage Centers
781-499-8294
115 Bacon Street Waltham, MA 02451
About StorageUnits.com
StorageUnits.com is a simple solution to helping people find the most convenient, secure, and affordable storage facilities. The website allows consumers to compare the best storage options wherever they are in the United States; whether it's traditional self-storage or a full-service storage and moving solution. The company is based in Addison, Texas and was founded on the principle that packing and moving valuables is stressful enough – choosing a storage unit should be a simple, quick process. For more information, visit https://www.storageunits.com/.