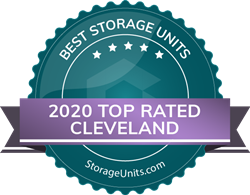 ADDISON, Texas (PRWEB) September 14, 2020
StorageUnits.com, a reliable and easy guide for the most convenient, secure, and affordable storage facilities, has announced the Best Self-Storage Units in Cleveland, OH. The research identifies 16 top storage unit facilities in the city based on reputation, affordability, proximity and more.
In addition to customer reviews, accreditation and expertise, StorageUnits.com evaluated each facility across 25 metrics and five main categories. Results were analyzed for 152 facilities in the Cleveland area with only 16 making the final list. Consumers can access the listing for quick, clear summaries to help them find quality, affordable storage options nearby.
"Our goal is to simplify the process by helping people find the best storage solutions to meet their needs," says Daniel Cobb, Co-Founder. "Whether they're relocating or just need extra space at home, our guide is a quick and trusted resource for quality storage facilities in convenient locations."
In addition to traditional self-storage solutions, StorageUnits.com also provides information and tools for full service storage, car storage, boat storage as well as moving solutions. The website enables consumers to compare the best options in various cities across the United States.
To access the complete listing of Best Self Storage Units in Cleveland, OH please visit https://www.storageunits.com/cleveland-oh-self-storage
2020 Best Self Storage Units in Cleveland, OH
Airport Mini Storage-Cleveland
216-265-0606
4961 Old Grayton Road Cleveland, OH 44135
Brookpark Mini Storage
216-741-9009
6750 Brookpark Road Cleveland, OH 44129
Buckeye State Storage - Cleveland
216-230-4455
2844 Broadway Avenue Cleveland, OH 44115
Casey's Storage Solutions
513-715-1252
10400 West Road Harrison, OH 45030
CLE Self Storage
216-471-5968
2401 Center Street Cleveland, OH 44113
Euclid Self Storage
216-264-3042
1381 East 276th Street Euclid, OH 44132
Indoor Self Storage Cleveland
216-978-8423
221 East 131st Street Cleveland, OH 44108
Infinite Self Storage
513-697-7407
10686 Loveland Madeira Road Loveland, OH 45140
Key Storage
513-863-6471
1010 Cleveland Avenue Hamilton, OH 45013
Metro Mini Storage
216-631-6333
3815 Clark Avenue Cleveland, OH 44109
Parma Self Storage
216-415-6437
9425 Brookpark Road Parma, OH 44129
Redi Storage
330-468-2330
10121 Northfield Road Northfield, OH 44067
Security Self Storage
440-684-9393
30525 Aurora Road Solon, OH 44139
Storage Solutions Inc. of Ohio
216-426-1700
2363 East 69th Street Cleveland, OH 44104
Sussen Self Storage
216-361-1200
6000 Carnegie Avenue Cleveland, OH 44103
We Store It – In Door Storage
216-518-2600
4500 Lee Road Cleveland, OH 44128
About StorageUnits.com
StorageUnits.com is a simple solution to helping people find the most convenient, secure, and affordable storage facilities. The website allows consumers to compare the best storage options wherever they are in the United States; whether it's traditional self-storage or a full-service storage and moving solution. The company is based in Addison, Texas and was founded on the principle that packing and moving valuables is stressful enough – choosing a storage unit should be a simple, quick process. For more information, visit https://www.storageunits.com/.