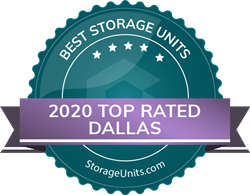 ADDISON, Texas (PRWEB) June 05, 2020
StorageUnits.com, a reliable and easy guide for the most convenient, secure, and affordable storage facilities, has announced the Best Self-Storage Units in Dallas, TX. The research identifies 16 top storage unit facilities in the city based on reputation, affordability, proximity and more.
In addition to customer reviews, accreditation and expertise, StorageUnits.com evaluated each facility across 25 metrics and five main categories. Results were analyzed for 205 facilities in the Dallas area with only 30 making the final list. Consumers can access the listing for quick, clear summaries to help them find quality, affordable storage options nearby.
"Our goal is to simplify the process by helping people find the best storage solutions to meet their needs," says Daniel Cobb, Co-Founder. "Whether they're relocating or just need extra space at home, our guide is a quick and trusted resource for quality storage facilities in convenient locations."
In addition to traditional self-storage solutions, StorageUnits.com also provides information and tools for full service storage, car storage, boat storage as well as moving solutions. The website enables consumers to compare the best options in various cities across the United States.
To access the complete listing of Best Self Storage Units in Dallas, TX please visit https://www.storageunits.com/dallas-tx-self-storage/
2020 Best Self Storage Units in Dallas, TX
157 Self Storage
817-952-3040
3950 FM157, Euless, TX 76040
A & F Storage Company
972-986-8541
516 N Belt Line Rd Irving, TX 75061
A Mini Self Storage
469-467-9373
Multiple Locations
A1 Absolute Self Storage
972-272-8260
Multiple Locations
A3 Storage Centers
214-935-9133
1526 Fort Worth Ave, Dallas, TX 75208
Abby's Storage
214-275-5510
5710 Military Pkwy Dallas, TX 75227
Abrams Skillman Self Storage
214-221-5979
6631 Larmanda St, Dallas, TX 75231
Access Self Storage and Truck Rental
214-326-0090
Multiple Locations
Addison Airport Self Storage
972-380-2112
4485 Glenn Curtiss Dr, Addison, TX 75001
American Harbor Self Storage
972-645-6720
7227 S R. L. Thornton Fwy, Dallas, TX 75232
Assured Self Storage
877-992-7787
Multiple Locations
Bargain Storage
972-881-1625
3420 14th St, Plano, TX 75074
Canton Street Self Storage
214-296-0391
1820 Canton St, Dallas, TX 75201
Crest Self Storage
972-992-1734
1060 West Round Grove Road Lewisville, TX 75067
Deep Ellum Self Storage
214-426-3337
3215 Hickory St, Dallas, TX 75226
Dependable Mini-Storage
972-285-0917
730 Military Pkwy, Mesquite, TX 75149
Lakeside Self Storage
903-586-2888
1048 County Road 3101 Jacksonville Texas, 75766
Lucas Storage
469-661-0080
575 S. Angel Parkway, Lucas, TX 75002
Macho Self Storage
972-444-8787
Multiple Locations
McGee Lane Self Storage
972-317-3112
1850 Mcgee Ln, Lewisville, TX 75077
Metroplex Self Storage
817-832-3147
Multiple Locations
Oak Cliff and Love Field Self Storage
214-375-4444
Multiple Locations
Peyton's Place Self Storage
972-557-1090
562 W Lawson Rd, Dallas, TX 75253
Starpoint Self Storage
972-289-4994
502 W Kearney St Suite 100, Mesquite, TX 75149
Store It All FW LLC
469-513-1687
3940 Samuell Blvd, Mesquite, TX 75149
Tex-Sun Moving & Storage
972-239-7068
10537 Miller Rd, Dallas, TX 75238
The Attic Storage
214-696-2010
Multiple Locations
The Best Little Warehouse In Texas
972-200-0592
1212 Oakland Drive Irving, TX 75060
Town East Storage
972-681-0436
3818 N Town E Blvd, Mesquite, TX 75150
White Rock Self Storage
214-319-7777
7820 Garland Rd, Dallas, TX 75218
About StorageUnits.com
StorageUnits.com is a simple solution to helping people find the most convenient, secure, and affordable storage facilities. The website allows consumers to compare the best storage options wherever they are in the United States; whether it's traditional self-storage or a full-service storage and moving solution. The company is based in Addison, Texas and was founded on the principle that packing and moving valuables is stressful enough – choosing a storage unit should be a simple, quick process.
For more information, visit https://www.storageunits.com/.