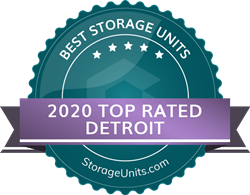 ADDISON, TX (PRWEB) November 24, 2020
StorageUnits.com, a reliable and easy guide for the most convenient, secure, and affordable storage facilities, has announced the Best Self-Storage Units in Detroit, MI. The research identifies 22 top storage unit facilities in the city based on reputation, affordability, proximity and more.
In addition to customer reviews, accreditation and expertise, StorageUnits.com evaluated each facility across 25 metrics and five main categories. Results were analyzed for 209 facilities in the Detroit area with only 22 making the final list. Consumers can access the listing for quick, clear summaries to help them find quality, affordable storage options nearby.
"Our goal is to simplify the process by helping people find the best storage solutions to meet their needs," says Daniel Cobb, Co-Founder. "Whether they're relocating or just need extra space at home, our guide is a quick and trusted resource for quality storage facilities in convenient locations."
In addition to traditional self-storage solutions, StorageUnits.com also provides information and tools for full service storage, car storage, boat storage as well as moving solutions. The website enables consumers to compare the best options in various cities across the United States.
To access the complete listing of Best Self Storage Units in Detroit, MI please visit https://www.storageunits.com/detroit-mi-self-storage/
2020 Best Self Storage Units in Detroit, MI
1-800-Self Storage
313-879-0381
19180 Allen Road Melvindale, MI 48122
Closetbox
313-322-4017
24660 Dequindre Road Warren, MI 48091
CubeSmart Self Storage
855-569-4848
Multiple Locations
Downtown Self-Storage Co.
313-963-7444
1551 Church Street Detroit, MI 48216
John's Storage
734-513-8773
12801 Inkster Road Livonia, MI 48150
Michigan Storage Centers
586-519-0586
15300 Eight Mile Road Oak Park, MI 48237
Mini U Storage
586-771-9200
24040 Groesbeck Highway Warren, MI 48089
Morse Moving & Storage
888-616-2810
3520 N Main Street Royal Oak, MI 48073
National Storage Centers
313-868-3200
1100 Oakman Boulevard Detroit, MI 48238
Public Storage - Madison Heights
248-278-1180
Multiple Locations
Royal Oak Storage
248-591-6580
31330 Stephenson Highway Madison Heights, MI 48071
Safe Keeping Self Storage
248-352-4600
26400 Eight Mile Road Southfield, MI 48033
Schaefer Lyndon Self Storage
313-272-2300
14541 Schaefer Highway Detroit, MI 48227
Simply Self Storage
586-778-5777
20355 E 9 Mile Road Street Clair Shores, MI 48080
SmartStop Self Storage
586-571-7621
27203 Groesbeck Highway Warren, MI 48089
Stop 'N Lock Self Storage
313-336-3022
3800 Enterprise Drive Allen Park, MI 48101
Storage Rentals of America
734-359-7385
28266 Ecorse Road Romulus, MI 48174
Storage Sense
586-498-8971
21500 Gratiot Avenue Eastpointe, MI 48021
Store Space Self Storage
313-349-6500
6470 Wyoming Avenue Dearborn, MI 48126
Telegraph Budget Storage
734-301-3806
21516 Telegraph Road Brownstown Charter Township, MI 48183
U-Stow-N-Lock
734-676-4811
2447 Fort Street Trenton, MI 48183
Your Personal Vault
313-496-1296
432 Mechanic Street Detroit, MI 48226
About StorageUnits.com
StorageUnits.com is a simple solution to helping people find the most convenient, secure, and affordable storage facilities. The website allows consumers to compare the best storage options wherever they are in the United States; whether it's traditional self-storage or a full-service storage and moving solution. The company is based in Addison, Texas and was founded on the principle that packing and moving valuables is stressful enough – choosing a storage unit should be a simple, quick process. For more information, visit https://www.storageunits.com/.