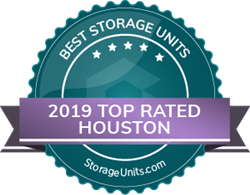 ADDISON, Texas (PRWEB) September 11, 2019
StorageUnits.com, a reliable and easy guide for the most convenient, secure, and affordable storage facilities, has announced the Best Self-Storage Units in Houston, TX. The research identifies 36 top storage unit facilities in the city based on reputation, affordability, proximity and more.
In addition to customer reviews, accreditation and expertise, StorageUnits.com evaluated each facility across 25 metrics and five main categories. Results were analyzed for 334 facilities in the Houston area with only 36 making the final list. Consumers can access the listing for quick, clear summaries to help them find quality, affordable storage options nearby.
"Our goal is to simplify the process by helping people find the best storage solutions to meet their needs," says Daniel Cobb, Co-Founder. "Whether they're relocating or just need extra space at home, our guide is a quick and trusted resource for quality storage facilities in convenient locations."
In addition to traditional self-storage solutions, StorageUnits.com also provides information and tools for full service storage, car storage, boat storage as well as moving solutions. The website enables consumers to compare the best options in various cities across the United States.
To access the complete listing of Best Self Storage Units in Houston, TX, please visit https://www.storageunits.com/houston-tx-self-storage/
2019 Best Self Storage Units in Houston, TX
A Discount Mini Storage
713-668-2191
9419 Buffalo Speedway Houston, TX 77025
A-AAA Storage
713-670-7272
7625 North Loop East, Houston, TX 77028
AAA Alliance Self-Storage
281-730-5968
11053 Eastex Fwy Houston, TX 77093
AAA Storage
832-742-4789
1815 Edmundson St Houston, TX 77003
Advantage Self-Storage
713-574-2081
2505 Southwest Fwy, Houston, TX 77098
All Purpose Storage
281-547-6360
12921 Kuykendahl Road Houston, TX 77090
All Weather Storage
281-609-7462
12690 Whittington Dr. Houston, TX 77077
Arella Self Storage
281-807-9100
12310 Perry Road Houston, TX 77070
Aztec Storages L.P.
713-681-1383
2200 W. 34th Street Houston, Texas 77018
Big Cheap Storage
713-498-2610
4325 Tusa Road Houston, TX 77092
Big Tex Self Storage
713-581-9180
3480 Ella Blvd Houston, TX 77018
Blalock Storage
713-827-0512
2240 Blalock Rd, Houston, TX 77080
Bullseye Storage
713-987-3118
7300 South Loop E Houston, TX 77087
Champion Forest Self Storage
281-749-1211
14850 Cutten Rd Houston, TX 77069
Community Self-Storage
713-802-2515
2515 Washington Avenue Houston, TX 77007
Eldridge Self-Storage
832-775-8543
2210 Eldridge Parkway Houston, TX 77077
Happy Self Storage
713-574-5368
Ha1850 W 43rd St Houston, TX 77018
Heights Mini Storage
832-582-6454
1600 Cordell St Houston, TX 77009
Houston Mini-Storage
713-721-4321
12841 Main St, Houston, TX 77035
Loop 610 Mini Storage
713-242-7091
7850 South Loop E Houston, TX 77017
Meyer Park Storage Center
713-729-7100
9505 Meyer Forest Drive Houston, TX 77070
Mimosa Self-Storage
713-453-8835
1222 Falcon St. Houston TX 77015
Mini City Self Storage
713-977-8791
9000 Westpark Dr. Houston, Texas 77063
Move-It Storage
713-450-4414
620 Normandy Rd Houston, TX 77015
Neighborhood Storage
832-786-2458
12610 Tanner Road Houston, TX 77041
Patriot Self Storage
855-603-6861
4217 San Felipe St Houston, TX 77027
Private Mini Storage
713-686-8085
3510 Ella Blvd Houston, TX 77018
Proguard Self Storage
281-462-5408
5503 Almeda Road Houston, TX 77004
Rippling Water Self-Storage
281-855-8555
16125 Rippling Water Dr. Houston, TX 77084
Safekeeping Self-Storage
713-692-4343
430 W Parker Rd Houston, TX 77091
Storage Choice
281-564-4595
10430 S Kirkwood Rd, Houston, TX 77099
Storage Solutions Plus
713-688-4046
4622 Sherwood Ln, Houston TX, 77092
Store It All Self Storage - Airline
281-407-9788
11820 Airline Dr. Houston, TX 77037
Vanwall Mini Storage
713-460-4611
13911 Van Wall St. Houston, TX 77040
Westheimer Transfer & Storage
888-321-0006
9960 Buffalo Speedway Houston, Texas 77054
Your Storage Place
832-266-1391
9333 Westheimer Rd, Houston, TX 77063
About StorageUnits.com
StorageUnits.com is a simple solution to helping people find the most convenient, secure, and affordable storage facilities. The website allows consumers to compare the best storage options wherever they are in the United States; whether it's traditional self-storage or a full-service storage and moving solution. The company is based in Addison, Texas and was founded on the principle that packing and moving valuables is stressful enough – choosing a storage unit should be a simple, quick process. For more information, visit https://www.storageunits.com/.