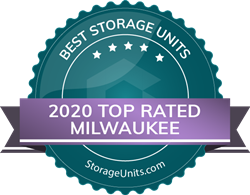 ADDISON, Texas (PRWEB) March 12, 2020
StorageUnits.com, a reliable and easy guide for the most convenient, secure, and affordable storage facilities, has announced the Best Self-Storage Units in Milwaukee, WI. The research identifies 24 top storage unit facilities in the city based on reputation, affordability, proximity and more.
In addition to customer reviews, accreditation and expertise, StorageUnits.com evaluated each facility across 25 metrics and five main categories. Results were analyzed for 228 facilities in the Milwaukee area with only 24 making the final list. Consumers can access the listing for quick, clear summaries to help them find quality, affordable storage options nearby.
"Our goal is to simplify the process by helping people find the best storage solutions to meet their needs," says Daniel Cobb, Co-Founder. "Whether they're relocating or just need extra space at home, our guide is a quick and trusted resource for quality storage facilities in convenient locations."
In addition to traditional self-storage solutions, StorageUnits.com also provides information and tools for full service storage, car storage, boat storage as well as moving solutions. The website enables consumers to compare the best options in various cities across the United States.
To access the complete listing of Best Self Storage Units in Milwaukee, WI please visit https://www.storageunits.com/milwaukee-wi-self-storage/
2020 Best Self Storage Units in Milwaukee, WI
A-1 Stor-All
414-807-3782
W60 N160 Cardinal Avenue Cedarburg, WI 53012
ClearHome Self Storage
262-208-1878
17000 W. Rogers Drive New Berlin, WI 53151
CubeSmart Self Storage of Milwaukee
414-323-8537
7635 W. Oklahoma Avenue Milwaukee, WI 53219
Cudahy Self Storage
414-769-2965
4958 S. Whitnall Avenue Cudahy, MI 53110
Devon Self Storage
414-375-9266
2292 S. 5th Court Milwaukee, WI 53207
East Bank Storage
414-374-3600
2025 N Dr. Martin Luther King Jr. Drive Milwaukee, WI 53212
East Side Stor Mor Self Storage of Milwaukee
414-962-1778
4150 N. Lydell Avenue Milwaukee, WI 53212
EZ Self Storage Mini Warehouses
414-383-4400
1201 W. Canal Street Milwaukee, WI 53233
Hansen Storage Company
414-777-1877
412 S. Water Street Milwaukee, WI 53204
Holly Hill Self Storage LLC
262-628-2615
2903 WI-167 Richfield, WI 53076
Lois Stor-All Self Storage Professionals
262-763-8925
32114 Droster Avenue Burlington, WI 53105
Menards Self Storage
715-876-2822
8120 W. Brown Deer Road Milwaukee, WI 53223
My Choice Self-Storage
262-420-9924
N81 W15111 Appleton Avenue Menomonee Falls, WI 53051
Neighborhood Storage Solutions
414-982-1493
2040 E St. Francis Avenue St. Francis, WI 53235
New Berlin Self Storage
262-784-5442
17505 W Liberty Lane New Berlin, WI 53146
Pit Stop Car Wash & Secured Self Storage
414-354-9619
8805 N. 107th Street Milwaukee, WI 53224
Regent Mini Storage
414-949-7225
4562 W. Woolworth Avenue Milwaukee, WI 53218
Silver Spring Self Storage
414-466-8888
5555 N. 27th Street Milwaukee, WI 53209
Stadium Self Storage
414-810-3101
400 W. Burnham Street Milwaukee, WI 53215
Storage Mart
414-282-6000
4400 S. 13th Street Milwaukee, WI 53221
Storage Master LLC
414-395-8228
12000 W. Silver Spring Drive Milwaukee, WI 53225
Store Here Self Storage
414-332-8773
4300 N. Richards Street Milwaukee, WI 53212
StorSafe Mini Storage Center
414-622-1547
7825 W. Tower Avenue Milwaukee, WI 53223
Whitewater Self Storage
262-473-4350
561 E. Milwaukee Street Whitewater, WI 53190
About StorageUnits.com
StorageUnits.com is a simple solution to helping people find the most convenient, secure, and affordable storage facilities. The website allows consumers to compare the best storage options wherever they are in the United States; whether it's traditional self-storage or a full-service storage and moving solution. The company is based in Addison, Texas and was founded on the principle that packing and moving valuables is stressful enough – choosing a storage unit should be a simple, quick process. For more information, visit https://www.storageunits.com/.