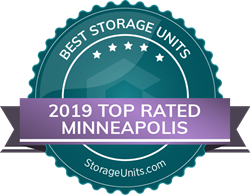 ADDISON, Texas (PRWEB) September 20, 2019
StorageUnits.com, a reliable and easy guide for the most convenient, secure, and affordable storage facilities, has announced the Best Self-Storage Units in Minneapolis, MN. The research identifies 20 top storage unit facilities in the city based on reputation, affordability, proximity and more.
In addition to customer reviews, accreditation and expertise, StorageUnits.com evaluated each facility across 25 metrics and five main categories. Results were analyzed for 190 facilities in the Minneapolis area with only 20 making the final list. Consumers can access the listing for quick, clear summaries to help them find quality, affordable storage options nearby.
"Our goal is to simplify the process by helping people find the best storage solutions to meet their needs," says Daniel Cobb, Co-Founder. "Whether they're relocating or just need extra space at home, our guide is a quick and trusted resource for quality storage facilities in convenient locations."
In addition to traditional self-storage solutions, StorageUnits.com also provides information and tools for full service storage, car storage, boat storage as well as moving solutions. The website enables consumers to compare the best options in various cities across the United States.
To access the complete listing of Best Self Storage Units in Minneapolis, MN, please visit https://www.storageunits.com/minneapolis-mn-self-storage/.
2019 Best Self Storage Units in Minneapolis, MN
7th Street Storage
651-698-5777
2060 7th St W St Paul, MN 55116
Acorn Mini Storage
612-314-3244
2547 5th St NE Minneapolis, MN 55418
All American Self Storage
651-645-5072
1500 Marshall Ave St Paul, MN 55104
Carver County Self Storage
952-442-3396
96 8th St E Waconia, MN 55387
Inver Grove Storage
651-998-7067
10125 Courthouse Blvd Inver Grove Heights, MN 55077
KO Storage
763-219-1531
5305 Pioneer Creek Dr Maple Plain, MN 55359
Lake Marion Storage
952-985-5020
22595 Pillsbury Ave Lakeville, MN 55044
Lake Region Storage
651-647-4400
606 Vandalia St St Paul, MN 55114
Mayflower Properties
612-504-6303
9900 Vale St NW Coon Rapids, MN 55433
Midwest Mini-Storage
763-600-7562
15930 Jarvis St NW Elk River, MN 55330
Minikahda Mini Storage
952-936-0936
150 Tyler Ave N Hopkins, MN 55343
MPLS Storage
612-333-7525
3138 Snelling Ave Minneapolis, MN 55406
North Star Mini Storage
612-827-3847
400 E Lake St Minneapolis, MN 55408
Plato Self Storage
651-234-0153
75 Plato Blvd W St Paul, MN 55107
River Town Storage
651-383-8848
12340 Margo Ave S Hastings, MN 55033
S & S Mini Storage
763-545-0811
3225 Winpark Dr New Hope, MN 55427
Scott County Mini Storage
952-445-6858
240 Shumway St S Suite 600 Shakopee, MN 55379
Stephen's Self Storage
5698 Hadley Ave N Oakdale, MN 55128
651-777-3122
Summit Mini Storage
651-429-1311
3716 Scheuneman Rd White Bear Lake, MN 55110
Waconia Mini Storage
952-446-9148
10550 W 10th St Waconia, MN 55387
About StorageUnits.com
StorageUnits.com is a simple solution to helping people find the most convenient, secure, and affordable storage facilities. The website allows consumers to compare the best storage options wherever they are in the United States; whether it's traditional self-storage or a full-service storage and moving solution. The company is based in Addison, Texas and was founded on the principle that packing and moving valuables is stressful enough – choosing a storage unit should be a simple, quick process. For more information, visit https://www.storageunits.com/.