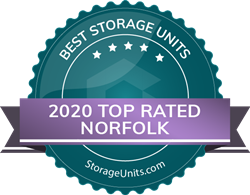 ADDISON, Texas (PRWEB) March 17, 2020
StorageUnits.com, a reliable and easy guide for the most convenient, secure, and affordable storage facilities, has announced the Best Self-Storage Units in Norfolk, VA. The research identifies 13 top storage unit facilities in the city based on reputation, affordability, proximity and more.
In addition to customer reviews, accreditation and expertise, StorageUnits.com evaluated each facility across 25 metrics and five main categories. Results were analyzed for 123 facilities in the Norfolk area with only 13 making the final list. Consumers can access the listing for quick, clear summaries to help them find quality, affordable storage options nearby.
"Our goal is to simplify the process by helping people find the best storage solutions to meet their needs," says Daniel Cobb, Co-Founder. "Whether they're relocating or just need extra space at home, our guide is a quick and trusted resource for quality storage facilities in convenient locations."
In addition to traditional self-storage solutions, StorageUnits.com also provides information and tools for full service storage, car storage, boat storage as well as moving solutions. The website enables consumers to compare the best options in various cities across the United States.
To access the complete listing of Best Self Storage Units in Norfolk, VA please visit https://www.storageunits.com/norfolk-va-self-storage/
2020 Best Self Storage Units in Norfolk, VA
Allsafe Self Storage
757-849-0549
3701 East Princess Anne Road, Norfolk, VA 23502
American Patriot Self Storage
757-397-1990
830 Broad Street Portsmouth, VA 23707
Colley Self Storage
757-440-4400
4415 Colley Avenue Norfolk, VA 23508
E-Commerce Center of Hampton
757-224-7024
1708 Todds Lane Hampton, VA 23666
E-Z Box Tidewater
757-240-4213
16467 General Puller Highway Deltaville, VA 23043
Harbour View Self Storage
757-638-3600
3101 Bromay Street Chesapeake, VA 23321
MyStorage
757-364-0781
711 Ward Road, Chesapeake, VA 23323
Norfolk Self Storage
757-215-4563
3203 East Princess Anne Road Norfolk, VA 23504
Ocean Storage
757-995-7820
801 West Little Creek Road, Norfolk, VA 23505
Simply Storage
757-250-7094
525 South Birdneck Road Virginia Beach, VA 23451
The Safe Place Mini Storage
757-622-2333
333 West York Street Norfolk, VA 23510
Tidewater Drive Storage Center
757-333-7800
6555 Tidewater Drive, Norfolk, VA 23509
U-STOW Self Storage
866-473-2962
5625 Shore Drive Virginia Beach, VA 23455
About StorageUnits.com
StorageUnits.com is a simple solution to helping people find the most convenient, secure, and affordable storage facilities. The website allows consumers to compare the best storage options wherever they are in the United States; whether it's traditional self-storage or a full-service storage and moving solution. The company is based in Addison, Texas and was founded on the principle that packing and moving valuables is stressful enough – choosing a storage unit should be a simple, quick process. For more information, visit https://www.storageunits.com/.