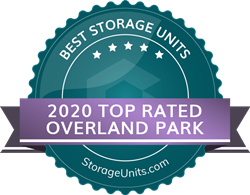 ADDISON, Texas (PRWEB) November 03, 2020
StorageUnits.com, a reliable and easy guide for the most convenient, secure, and affordable storage facilities, has announced the Best Self-Storage Units in Overland Park, KS. The research identifies 12 top storage unit facilities in the city based on reputation, affordability, proximity and more.
In addition to customer reviews, accreditation and expertise, StorageUnits.com evaluated each facility across 25 metrics and five main categories. Results were analyzed for 114 facilities in the Overland Park area with only 12 making the final list. Consumers can access the listing for quick, clear summaries to help them find quality, affordable storage options nearby.
"Our goal is to simplify the process by helping people find the best storage solutions to meet their needs," says Daniel Cobb, Co-Founder. "Whether they're relocating or just need extra space at home, our guide is a quick and trusted resource for quality storage facilities in convenient locations."
In addition to traditional self-storage solutions, StorageUnits.com also provides information and tools for full service storage, car storage, boat storage as well as moving solutions. The website enables consumers to compare the best options in various cities across the United States.
To access the complete listing of Best Self Storage Units in Overland Park, KS please visit https://www.storageunits.com/overland-park-ks-self-storage/
2020 Best Self Storage Units in Overland Park, KS
AA Northland Stor-All
913-802-4541
5150 Northwest Waukomis Drive Kansas City, MO 64151
Belton Self Storage
816-380-7187
Multiple Locations
Beyond Self Storage at Lenexa
913.276.0920
Multiple Locations
Box Storage Overland Park
913-261-9897
12180 West 135th Street Overland Park, KS 66221
Central Self Storage
913-764-0106
1702 E Kansas City Road Olathe, KS 66061
Great Value Storage
816-966-4900
9600 Marion Ridge Kansas City, MO 64137
I-35/I-435 Self Storage
913-469-5880
10750 Cottonwood Street Lenexa, KS 66215
Olathe Self Storage
913-270-3524
Multiple Locations
Public Storage
913-624-3632
3150 S 44th Street Kansas City, KS 66106
Security Self Storage
913-428-0229
13300 College Boulevard Lenexa, KS 66210
Shield Storage of Kansas City
816-688-3388
1226 Chestnut Avenue Kansas City, MO 64127
StorageMart
888-510-0098
Multiple Locations
About StorageUnits.com
StorageUnits.com is a simple solution to helping people find the most convenient, secure, and affordable storage facilities. The website allows consumers to compare the best storage options wherever they are in the United States; whether it's traditional self-storage or a full-service storage and moving solution. The company is based in Addison, Texas and was founded on the principle that packing and moving valuables is stressful enough – choosing a storage unit should be a simple, quick process. For more information, visit https://www.storageunits.com/.