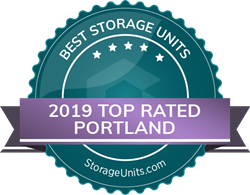 ADDISON, Texas (PRWEB) October 09, 2019
StorageUnits.com, a reliable and easy guide for the most convenient, secure, and affordable storage facilities, has announced the Best Self-Storage Units in Portland, OR. The research identifies 22 top storage unit facilities in the city based on reputation, affordability, proximity and more.
In addition to customer reviews, accreditation and expertise, StorageUnits.com evaluated each facility across 25 metrics and five main categories. Results were analyzed for 207 facilities in the Portland area with only 22 making the final list. Consumers can access the listing for quick, clear summaries to help them find quality, affordable storage options nearby.
"Our goal is to simplify the process by helping people find the best storage solutions to meet their needs," says Daniel Cobb, Co-Founder. "Whether they're relocating or just need extra space at home, our guide is a quick and trusted resource for quality storage facilities in convenient locations."
In addition to traditional self-storage solutions, StorageUnits.com also provides information and tools for full service storage, car storage, boat storage as well as moving solutions. The website enables consumers to compare the best options in various cities across the United States.
To access the complete listing of Best Self Storage Units in Portland, OR, please visit https://www.storageunits.com/portland-or-self-storage/
2019 Best Self Storage Units in Portland, OR
Acme Storage, Inc.
503-255-2998
10025 NE Simpson Street Portland, OR 97220
Broadway Storage PDX
971-254-4241
228 NE Broadway, Portland, OR 97232
Burnham Business & Storage
503-639-2927
8900 SW Burnham Street Tigard, OR 97223
Canby Secure Storage
503-776-0601
1753 SE 1st Ave Canby, OR 97013
Edgewater Associates
503-758-7576
517 NE Roth Street, Suite B Portland, OR 97211
Fort Knox Mini Storage
503-252-7171
5530 NE112nd Ave Portland, OR 97230
Golden Key Mini Storage
503-639-1733
6725 Southwest Bradbury Ct Tigard, OR 97224
Hall Mini Storage
503-245-0754
10015 SW Hall Blvd Tigard, OR 97223
Iron Gate Storage
360-703-9968
7920 NE117th Ave, Vancouver, WA 98662
Johnson Creek Mini & RV Storage
503-774-1745
8935 SE Stanley Place Portland, OR 97206
Macadam Mini-Storage
503-977-1441
35620 SW Kelly Ave, Ste. #1 Portland, OR 97239
Newberg Self Storage
503-554-8600
3701 Portland Road Newberg, OR 97132
Priestley and Sons
503-661-7920
2255 NW Birdsdale Ave Gresham, OR 97030
Princeton Property Management: Baseline and Beaverton Mini Storage
503-531-9388
18375 SW Baseline Road, Beaverton, OR 97006
Ridgefield Mini Storage
360-684-4549
7555 S. Union Ridge Pkwy Ridgefield, WA 98642
Rose City Moving & Storage
503-285-8100
5130 North Basin Ave Portland, OR 97217
Sunset Mini Storage
503-336-9691
16501 NW Twin Oaks Dr Beaverton, OR 97006
Tote N Stow
503-692-3930
10290 Tualatin Rd. Tualatin, OR 97062
Troutdale Storage
503-492-4700
1027 NE Harlow Road Troutdale, OR 97060
Walker Storage
503-747-5989
18365 NW Walker Road Beaverton, OR 97006
Wood Village Stow-a-Way
503-669-1401
2195 NE 244th Ave Wood Village, OR 97060
Yeon Mini Storage
503-379-9759
3055 Yeon Ave Portland, OR 97210
About StorageUnits.com
StorageUnits.com is a simple solution to helping people find the most convenient, secure, and affordable storage facilities. The website allows consumers to compare the best storage options wherever they are in the United States; whether it's traditional self-storage or a full-service storage and moving solution. The company is based in Addison, Texas and was founded on the principle that packing and moving valuables is stressful enough – choosing a storage unit should be a simple, quick process. For more information, visit https://www.storageunits.com/.