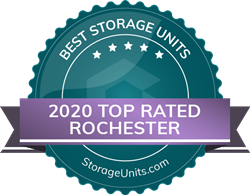 ADDISON, Texas (PRWEB) May 26, 2020
StorageUnits.com, a reliable and easy guide for the most convenient, secure, and affordable storage facilities, has announced the Best Self-Storage Units in Rochester, NY. The research identifies 16 top storage unit facilities in the city based on reputation, affordability, proximity and more.
In addition to customer reviews, accreditation and expertise, StorageUnits.com evaluated each facility across 25 metrics and five main categories. Results were analyzed for 238 facilities in the Rochester area with only 25 making the final list. Consumers can access the listing for quick, clear summaries to help them find quality, affordable storage options nearby.
"Our goal is to simplify the process by helping people find the best storage solutions to meet their needs," says Daniel Cobb, Co-Founder. "Whether they're relocating or just need extra space at home, our guide is a quick and trusted resource for quality storage facilities in convenient locations."
In addition to traditional self-storage solutions, StorageUnits.com also provides information and tools for full service storage, car storage, boat storage as well as moving solutions. The website enables consumers to compare the best options in various cities across the United States.
To access the complete listing of Best Self Storage Units in Rochester, NY please visit https://www.storageunits.com/rochester-ny-self-storage/
2020 Best Self Storage Units in Rochester, NY
Brighton Henrietta Self-Storage
585-244-1114
3255 Brighton Henrietta Town Line Road Rochester, NY 14623
Chester's Self Storage
585-235-3943
Multiple Locations
Dewey Self Storage
585-663-7720
4999 Dewey Avenue Rochester, NY 14612
East Avenue Storage
585-244-8777
630 East Avenue Rochester, NY 14607
Empire Storage
585-482-7000
1385 Empire Boulevard Rochester, NY 14609
Erie Station Storage
585-332-0451
70 Erie Station Road West Henrietta, NY 14586
Four Seasons Storage
585-359-0404
4087 W. Henrietta Road Rochester, NY 14623
Gates Self Storage
585-429-9830
35 Elmgrove Park Rochester, NY 14624
Geneva Mini Storage LLC
315-789-2656
625 W Washington Street Geneva, NY 14456
Gibbs Street Self Storage
585-441-9728
225 Gibbs Street Rochester, NY 14605
Greece Mini Storage
585-225-5210
496 Long Pond Road Rochester, NY 14612
High Falls Self Storage
585-454-1350
67 Warehouse Street Rochester, NY 14608
Linden Self Storage
585-381-6557
870 Linden Avenue Rochester, NY 14625
Pittsford Mini Storage
585-286-5202
Multiple Locations
River Campus Storage
585-417-6961
169 Flanders Street Rochester, NY 14619
Roc Self Storage
585-334-4600
30 Thruway Park DriveWest Henrietta,NY 14586
Rochester Central Self Storage
585-232-1141
444 Central Avenue Rochester, NY 14605
Scottsville Mini Storage
585-436-2010
1651 Scottsville Road Rochester, NY 14623
Self Storage Near Me
585-784-0203
Multiple Locations
Suburban Mini Storage
585-223-8360
289 Hogan Road Fairport, NY 14450
Tru Blu Self Storage
585-427-0505
60 Goodway Drive S Henrietta, NY 14623
Victor Self Storage
585-924-9290
200 School Street Victor, NY 14564
Village Warehouse, Inc.
585-586-2483
10 Ontario Street East Rochester, NY 14445
Webster Mini Storage
585-265-3393
1780 Tebor Road Webster, NY 14580
West Ridge Self Storage
585-581-2010
151 Bernice Street Rochester, NY 14615
About StorageUnits.com
StorageUnits.com is a simple solution to helping people find the most convenient, secure, and affordable storage facilities. The website allows consumers to compare the best storage options wherever they are in the United States; whether it's traditional self-storage or a full-service storage and moving solution. The company is based in Addison, Texas and was founded on the principle that packing and moving valuables is stressful enough – choosing a storage unit should be a simple, quick process. For more information, visit https://www.storageunits.com/.