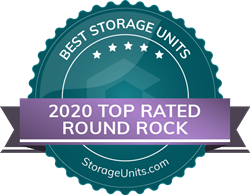 ADDISON, Texas (PRWEB) July 10, 2020
StorageUnits.com, a reliable and easy guide for the most convenient, secure, and affordable storage facilities, has announced the Best Self-Storage Units in Round Rock, TX. The research identifies 23 top storage unit facilities in the city based on reputation, affordability, proximity and more.
In addition to customer reviews, accreditation and expertise, StorageUnits.com evaluated each facility across 25 metrics and five main categories. Results were analyzed for 219 facilities in the Round Rock area with only 23 making the final list. Consumers can access the listing for quick, clear summaries to help them find quality, affordable storage options nearby.
"Our goal is to simplify the process by helping people find the best storage solutions to meet their needs," says Daniel Cobb, Co-Founder. "Whether they're relocating or just need extra space at home, our guide is a quick and trusted resource for quality storage facilities in convenient locations."
In addition to traditional self-storage solutions, StorageUnits.com also provides information and tools for full service storage, car storage, boat storage as well as moving solutions. The website enables consumers to compare the best options in various cities across the United States.
To access the complete listing of Best Self Storage Units in Round Rock, TX please visit https://www.storageunits.com/round-rock-tx-self-storage/
2020 Best Self Storage Units in RoundRock, TX
365 Self Storage at Bastrop
512-321-5000
510 TX-71 Bastrop, TX 78602
Affordable Boat and RV Storage
512-487-0327
2851 A.W. Grimes Boulevard Round Rock, TX 78664
All Stor Self Storage
512-817-3131
Multiple Locations
ATX Self Storage
512-366-5433
6901 N Interstate Highway 35 Austin, TX 78752
CR 110 Self Storage
512-238-1222
7525 CR 110 Round Rock, TX 78665
Forest Creek Mini Storage
512-265-3974
1901 Red Bud Lane Round Rock, TX 78664
Happy Self Storage
713-956-5000
Multiple Locations
Hudson Bend Boat and Camper Storage, LTD
512-266-2565
4704 Hudson Bend Road Austin, TX 78734
Lakeline Storage
512-219-9988
11000 Lakeline Boulevard Austin, TX 78717
Lone Star Self Storage
512-444-4232
403 E. Ben White Boulevard Austin, TX 78704
Manchaca Storage
512-382-0994
9507 Manchaca Road Austin, TX 78748
Mopac Self Storage
512-244-1011
12900 N Mopac Expressway Austin, TX 78727
Northgate Storage
512-531-9270
8833 Research Boulevard Austin, TX 78758
Oak Hill Storage
512-494-5005
7901 W. Highway 71 Austin, TX 78735
Pflugerville Self Storage
512-640-0445
1511 Panther Loop Pflugerville, TX 78660
Ranch Road Self Storage
512-212-9823
1900 Ranch Road 12 San Marcos, TX 78666
St. Elmo Storage
512-502-5335
405 E St Elmo Road Austin, TX 78745
Stash N Go Storage
512-836-9698
2707 O'Neal Lane Austin, TX 78759
Steel Box Self Storage
512-710-9715
13 Applegate Circle Round Rock, TX 78665
Storage Direct Cedar Park
512-253-4886
945 W New Hope Drive Cedar Park, TX 78613
Storage Plus of Taylor Hutto
512-309-7271
4105 W 2nd Street Taylor, TX 76574
Storagemax Self Storage
512-310-1995
Multiple Locations
Store It All Self Storage – Westlake
512-774-6828
1500 Village West Drive Austin, TX 78733
About StorageUnits.com
StorageUnits.com is a simple solution to helping people find the most convenient, secure, and affordable storage facilities. The website allows consumers to compare the best storage options wherever they are in the United States; whether it's traditional self-storage or a full-service storage and moving solution. The company is based in Addison, Texas and was founded on the principle that packing and moving valuables is stressful enough – choosing a storage unit should be a simple, quick process. For more information, visit https://www.storageunits.com/.