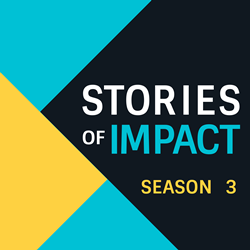 Our moral reasoning needs to infiltrate some of these discussions of technology to be able to understand what is really in the common good. - Dominic Burbidge
NEW YORK (PRWEB) October 14, 2020
The notion of citizenship is challenging, especially in a digital age. How can we listen to people we don't agree with? How do we rebuild trust in an era of fake news? What can we do to create cohesion and healthy, safe, inclusive societies? Our season begins with a conversation with experts who focus on these timely issues and their extensive report on the topic. Join us as we discuss these vital questions.
The Guests:
Dominic Burbidge researches decentralizations (technological and governmental), citizenship, and social trust. He is Research Director in the University of Oxford, External Advisor to Templeton World Charity Foundation, and Director of the Canterbury Institute. Dr. Burbidge is the single author of two books and nine peer-reviewed articles, which focus on the nature of democracy, social trust, and human connectivity.
Andrew Briggs is the inaugural holder of the Chair in Nanomaterials at the University of Oxford. In 1999, he was elected Honorary Fellow of the Royal Microscopical Society for his innovative methods and applications of microscopy. From 2002-2009, he was Director of the Interdisciplinary Research Collaboration in Quantum Information Processing. He has more than 600 publications, with nearly 25,000 citations.
The Host:
Richard Sergay is an award-winning television journalist and media executive who spent much of his career at ABC News. He reported on major domestic and international stories for World News, Nightline, and Good Morning America. Richard graduated with Highest Honors from the University of California with a BA in Politics, undertook postgraduate work in International Relations at Georgetown, and was a John S. Knight Fellow at Stanford University.
The Producer:
Writer and producer of several nonfiction podcasts with a global audience, Tavia Gilbert is the acclaimed narrator of more than 650 full-cast and multi-voice audiobooks, Booklist's Audiobook Narrator of the Year, and a multi Audie Award-winner, including for Best Female Narrator. She is also the creator of The Abels, a scripted podcast in collaboration with the BBC. Tavia holds a BFA in Acting from Cornish College of the Arts and an MFA in Creative Nonfiction from Vermont College of Fine Arts, where she is a regular teaching artist.
This project was made possible through the generous support of a grant from Templeton World Charity Foundation.