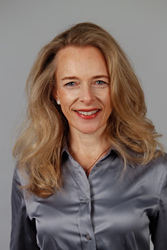 "The 'Great Resignation' is real and the fight for talent in the technology sector is fierce. We couldn't be happier to have Rosie join Storj as our new CMO and part of our executive team to help us continue on our growth path and blaze a trail in the decentralized storage space," said Ben Golub, CE
ATLANTA (PRWEB) November 09, 2021
Storj, one of the fastest growing decentralized storage companies, today announced the appointment of Rosie Pongracz as Chief Marketing Officer (CMO). In her role, Rosie will be an integral part of the executive team as she oversees the development and execution of Storj's marketing strategy.
Bringing with her more than 20 years of senior leadership experience, Rosie is an engineer by training, a builder by nature, and a full stack technical marketer by practice. Rosie has launched more than 50 products and companies, led marketing teams through successful acquisitions and mature growth at early-stage, venture-funded, open source, and public companies such as Salesforce, IBM, VMware (Thinstall), Intel (Dialogic), Embarcadero (Idera), Carl Zeiss, CollabNet.
"I am honored to join a seasoned leadership team bringing the vision of decentralized cloud object storage to developers and enterprises. Storj is a disruptor, driving the revolution in the truly distributed cloud - Web3," said Rosie Pongracz. "My role as CMO is to create the narrative for the company that will reach more developers building cloud applications, DeFi networks, and edge applications and to bring this next generation, distributed, sustainable vision to the enterprise."
Storj has established momentum with developers and storage professionals by providing a more secure, private, cost-slashing alternative to the mega cloud storage lock-in and environmentally unfriendly hyper-scaler architectures. Storj is well positioned with a disruptive product -- set to deliver on two major and imminent cloud architecture shifts: 1) Web3 and the internet privacy mandate; 2) the decentralized compute stack.
"The 'Great Resignation' is real and the fight for talent in the technology sector is fierce. We couldn't be happier to have Rosie join Storj as our new CMO and part of our executive team to help us continue on our growth path and blaze a trail in the decentralized storage space," said Ben Golub, CEO, Storj. "Rosie's experience as a full stack marketer and her ability to bring 'all things platform' to market, including platforms for cloud, data, machine learning, internet of things and mobile is unmatched in the industry. She is an exceptional marketer and technologist."
Rosie was a winner of the first Google Android Challenge and is on the board of NumFOCUS, whose mission is to support open-source projects for scientific computing. Rosie's passions are everything STEM education, diversity in tech, and animal welfare. She is a private pilot, underwater photographer, and sci-fi junkie. Rosie has a Bachelor of Science in Electrical and Biomedical Engineering from Carnegie Mellon.
"Rosie is a fantastic addition to our executive team with an impressive background and proven track record in driving customer acquisition and brand awareness," said Shawn Wilkinson, founder, Storj. "Rosie's oversight will be invaluable as we continue to grow as a company and break new ground in the decentralized storage space."
About Storj
Storj provides secure, private, affordable, decentralized cloud object storage for developers, product teams, and organizations building applications or storing data in the cloud. Storj DCS (Decentralized Cloud Storage), uses encryption by default and edge-based access control to give users better control of their data so they can build, scale, and optimize with confidence. With its robust library of documentation, open-source architecture, and S3-compatibility, Storj DCS makes it simple to migrate from legacy cloud storage providers. Storj offers an enterprise grade service, with 11 9's of durability, over 99.95% availability, superior privacy and security, and performance that is often significantly faster than the legacy cloud providers, at a price that can be less than 3%- that of the established providers.
The Storj Network uses STORJ token, an ERC-20 utility token, as an exchange of value across its network. The token enables Storj to send and receive payments around the world for minimal costs and no currency conversion fees. Payments with STORJ token also provide a fast, transparent, scalable, and easy payment solution for customers.
To learn more about Storj, visit storj.io. Follow us on Twitter at @storj.