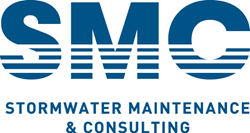 BALTIMORE (PRWEB) January 08, 2019
Stormwater Maintenance & Consulting is changing its name. Effective immediately, the firm, which has offices in Hunt Valley and Upper Marlboro, MD, will begin trading as SMC.
"The new name reflects the fact that we are merging Stormwater Consulting, Inc. (SCI) into affiliate firm Stormwater Maintenance, LLC (SWM)," says Jennifer Rauhofer, PE, SMC President.
While it will have a new name and logo, SMC will retain its focus on stormwater, stream restoration, and related services that protect and restore the Chesapeake Bay, according to Rauhofer. She notes, "SCI and SWM have always offered complementary services and have often functioned as a single firm on stormwater- and restoration-related projects, so it simply made good, practical sense to become a single legal entity."
SMC will provide clients with the same services the two formerly separate companies have traditionally offered. Those include: engineering, land surveying, and consulting services on stormwater- and restoration-related projects; inspection, maintenance, and repair of all types of stormwater infrastructure; and construction of stormwater retrofit and stream restoration projects.
"As SMC, we are in a significantly better position to offer our clients a broad range of services, unusually diverse expertise, and extraordinary value, while offering our employees unparalleled opportunities for diversification and advancement," Rauhofer explains. "Very few firms in our field have this level of focused, in-house technical knowledge and experience."
SMC will provide its services to clients throughout the Mid-Atlantic, primarily in Central Maryland, the District of Columbia, Northern Virginia, Delaware, and Central/Southeastern Pennsylvania including the City of Philadelphia.
As part of the name change, SMC also unveiled a new tagline: "We Protect and Restore Watersheds" and an updated website.
"This name change facilitates organic expansion into services related to our core business – such as land surveying and industrial NPDES consulting – while the new tag line reinforces our overall commitment to protecting and restoring the Chesapeake Bay," Rauhofer concludes.
Stormwater Consulting, Inc. was founded in 2002, while Stormwater Maintenance, LLC got its start two years later.
SMC is a MDOT-certified Disadvantaged Business Enterprises/Minority Business Enterprises (DBE/MBE) providing services to leading MS-4 municipalities, property and facility managers, property owners and developers, and industrial property owners throughout the Chesapeake Bay watershed. For more information, visit http://www.mdswm.com or follow them on Twitter @smc_restoration.