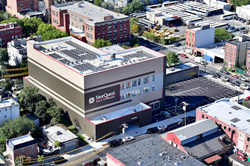 BROOKLYN, N.Y. (PRWEB) November 15, 2021
StorQuest Self Storage, a dynamic brand with a commitment to innovative solutions and an industry-wide reputation for exceptional guest service, is excited to announce the expansion of its national reach. The newly developed state-of-the-art facility, located at 155 King St., marks the second StorQuest location in Brooklyn and the tenth facility in the Empire State.
Built with the highest standards in self storage design, this best-in-class facility is strategically located on the west edge of Brooklyn in the bustling Red Hook neighborhood that overlooks the Statue of Liberty. It's approximately two miles south of the Brooklyn Bridge and is equipped with the ever changing needs of the community.
The innovative brand inspires customers to put away their stuff, live big, and "Make Room for Awesome." This mantra takes the form of a gleaming five-level facility equipped with an abundance of locker storage perfect for small personal items, climate-controlled storage, 24 hour digital surveillance, and access 7 days a week. Getting started is "awesomely simple" too, with contactless rentals, 24/7 customer leasing & support, and online account access.
Follow us on Instagram, Facebook, Pinterest and Twitter to learn more about the company and how we inspire guests to make the most out of self storage, and life.