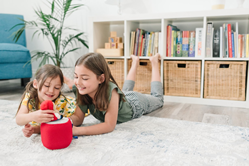 "Our new Pinna Crafties will soon become your family favorites," said Daniel Buelhoff, founder of Storypod. "We welcome Pinna to the Storypod family and are thrilled to partner with this respected children's brand to add more immersive storytelling to our stage-based audio library."
MIAMI (PRWEB) November 03, 2022
Storypod continues to expand its diverse audio library, announcing its latest partnership with Pinna to add five of their beloved characters to the system. The Pinna Craftie Collection includes Buddy the T-Rex from Dinosaur Train Ride Along Adventures, Shark from Hey Story Go!, Blue Dot from Piper and the Dots, Sugar Monster from Molly and the Sugar Monster, and Bobbi-Bobbi from the rocking, musical-based podcast The FurryTones.
Pinna is the award-winning, on-demand audio streaming service for kids 3 to 12 and the leading producer of podcasts made for kids. The featured characters now available in the Storypod library hail from some of Pinna's most popular podcasts and like Storypod, promote creative thinking, audio play, and screen-free learning.
"Our new Pinna Crafties will soon become your family favorites," said Daniel Buelhoff, founder of Storypod. "We welcome Pinna to the Storypod family and are thrilled to partner with this respected children's brand to add more immersive storytelling to our stage-based audio library."
"At Pinna, we're on a mission to activate kids' imaginations, spark conversations and inspire kids to listen, wonder, laugh, learn, and think creatively. We're thrilled to be bringing a sampling of our most popular pre-school podcasts and interactive audio stories to the StoryPod platform to do just that," shared Maggie McGuire, CEO of Pinna.
Storypod's focus on interactive and tactile components complements Pinna's ability to entertain and make learning fun, focusing on early childhood development and literacy skills. Each Pinna Craftie is packed with engaging storytelling and play-along adventures.

Buddy the T-Rex, from the Pinna Original podcast Dinosaur Train Ride Along Adventures, based on The Jim Henson Company's original series on PBS Kids, joins his friends Tiny, Shiny, Don, the conductor and many more dinosaur friends as they embark on adventures around the prehistoric world. For ages 3 to 6.
Shark, from the Pinna Original podcast Hey Story Go!, features stand-alone podcast episodes hosted by storytellers Carly C and KB, who take kids on wild, musical, fantasy adventures. For ages 3 to 6.
Blue Dot, along with Yellow and Red Dots, from the Pinna Original podcast Piper & The Dots, follow a playful preschooler named Piper as they embark on joyful adventures around their home and neighborhood. For ages 2 to 5.
Sugar Monster, from the Pinna Original podcast Molly and the Sugar Monster, has a simple mission in life: never let kids eat healthy foods. Young Molly also has a mission: never let the Sugar Monster succeed at his mission! For ages 3 to 5.
Bobbi-Bobbi, from the Pinna Original Podcast The FurryTones, a Parents' Choice Funstuff Award Winner, is a parrot and the manager for The FurryTones, a band of four rockin' foxes who write songs and play music for a wide range of unique animal celebrations. For ages 4 to 7. Pinna Crafties are priced at $19.99. For more information, visit http://www.storypod.com.
About Storypod:
Storypod is on a mission to help screen-conscious parents raise intelligent and healthy kids through the power of audio play. Storypod invites families on a fun, screen-free journey with its smart audio play system for storytelling, learning and literacy.
About Pinna:
Pinna, LLC is the creator of the first and only on-demand audio entertainment service developed and curated exclusively for kids 3-12. With thousands of podcast episodes, audiobooks, and songs, Pinna partners with respected children's brands and produces a growing library of original programming under the Pinna Originals brand. Pinna is available in the iOS, Android, and Amazon app stores both domestically and internationally and can also be accessed on the web. For more information visit http://www.pinna.fm.