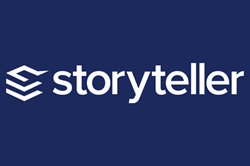 "The greatest barrier to digital transformation and Agile adoption is the lack of alignment between business and IT," Ruth Zive, CMO, Blueprint.
Toronto,ON (PRWEB) August 09, 2017
Blueprint, a leader in solutions for automating business and IT alignment to de-risk and accelerate digital transformation in large organizations, is proud to announce the availability of free trials of its Storyteller platform. Storyteller is the industry leading solution for helping Product and IT teams resolve the critical bottlenecks at the front end of their Enterprise Agile and DevOps toolchains.
As a Platinum sponsor of Agile2017, Agile Alliance's leading conference for furthering Agile principles, Blueprint is focused on helping companies address the critical barriers preventing their investments in Agile transformation from translating into more impactful business results.
Blueprint Storyteller is the leading product supporting the evolution of Agile and DevOps to BizDevOps, the practice of automating the alignment of IT deliverables back to business and market objectives at every stage in the toolchain.
"The greatest barrier to digital transformation and Agile adoption is the lack of alignment between business and IT," said Ruth Zive, CMO, Blueprint. "By automating critical front-end product planning and definition processes and integrating them into the DevOps toolchain, Storyteller helps IT initiatives deliver measurable business impact."
Visit Blueprint at Agile2017 from August 7th through August 11th at booth #202.
Start your free trial of Storyteller at http://www.blueprintsys.com/try-storyteller/.
About Blueprint
Blueprint provides industry-leading solutions that accelerate and de-risk the digital transformation of large organizations. Our products – Blueprint Storyteller and Blueprint Regulatory Compliance Manager – resolve many of the time-consuming, costly, and error- prone functions that challenge IT organizations. Our products sit at the front of the toolchain, ensuring alignment of business and IT stakeholders. We've created solutions that drive innovation and collaboration, ensure regulatory compliance, and protect the business value of products from definition to delivery.
More than half of all Fortune 100 companies across the globe have chosen Blueprint to automate their most complex digital transformation challenges.
For more information, please visit http://www.blueprintsys.com.