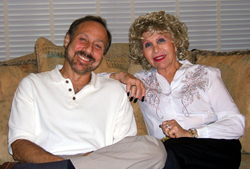 My Uncle Gloria is truly a story of transformation, healing and reconciliation.
MIAMI (PRWEB) February 12, 2019
Author Steven Shulman announces the release of his new book, My Uncle Gloria: A Memoir, which tells the tale of how his macho uncle's sex change helped reunite a neurotic, dysfunctional family.
The tale of macho Uncle Butch's transformation to "Uncle Gloria" serves as the anchor points of the author's journey "from the outhouse to the penthouse." From early childhood through time spent in prison, Steven Shulman weaves a gritty narrative of his life, recounted in graphic detail, as he endured:

Family rejection, abandonment, and betrayal, finding the strength to go on through years of emotional pain
Anti-Semitism, bigotry, hatred, and bullying, which ended only when anger took over and he inflicted serious bodily harm on his oppressor
Drug addiction and recovery
Drug-dealing and incarceration
The sexual molestation of his wife by influential men in power that led to her suicide at age 40
Serving as bookends at the beginning and end of the memoir is the story of how Butch (Steven's mother's brother), an abrasive, narcissistic, and homophobic auto junkyard owner, underwent sex reassignment surgery at age 66, transitioning into his glamorous Aunt Gloria. Unlike other accounts of families being torn apart by a sex change, Butch's actions brought Steven's fractured family back together after decades of estrangement.
The one bright spot in Steven's childhood had been the time spent with Uncle Butch and his family, a welcome respite from his abusive home life on Miami Beach. When weekend visits with Butch abruptly ended, Steven blamed himself, as he didn't learn until he was an adult that his "loving uncle" had a secret double life filled with salacious sexual exploits including cross-dressing, dominatrix performances, bondage & discipline, sado-machism, and involvement in a stolen car ring. Facing a lengthy prison term, and with outstanding warrants for his arrest, Butch decided to go underground and live his life incognito as a "full-time" woman.
Years later Steven received a life-altering call from his sister, telling him about his "new" Aunt Gloria. By then, Shulman had won his battle with addiction and destructive behavior and established a highly successful career in insurance and real estate.
My Uncle Gloria is truly a story of transformation, healing and reconciliation. "For those struggling with life's challenges, communication and a willingness to forgive make anything possible," Steven says.
Eighty percent of the proceeds from My Uncle Gloria book sales go to Steven's charity, Animal Care Now, which provides immediate emergency funding for animals/pets in distress.
Here's how to get your copy of My Uncle Gloria.
Get an autographed paperback copy at the author's website store.
Paperback and Kindle eBook editions are available at Amazon.
Audio books will be available in the near future.
My Uncle Gloria author Steven Shulman is available for radio and television interviews. To book an appearance, call 305-710-9499.