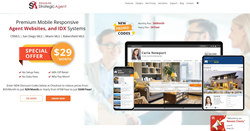 "With Covid-19 impacting Real Estate Agents and the Southern California real estate market, getting a world class website and premium IDX system for no setup fees and just $29/month, can really help an agent's business and help her or him to save on large monthly expenses," Richard Uzelac added
THOUSAND OAKS, Calif. (PRWEB) September 25, 2020
"We are excited to enter our third year as the only IDX and Agent Website highlighted on the CRMLS Marketplace!" said Richard Uzelac, President of Absolute Strategic Agent Inc. "In this time especially with Covid-19 impacting Real Estate Agents and the Southern California real estate market, getting a world class website and premium IDX system for no setup fees and just $29/month, can really help an agent's business and help her or him to save on large monthly expenses," Richard Uzelac added.
Uzelac explains, "Strategic Agent started by offering CRMLS agents a basic IDX search for free. Agents can still get that basic one link to add to their website, but we knew they needed more. Our 'more' is a Premium Agent website/IDX combo with lead capture, mobile responsiveness, and high security; bundled with our own Full Featured World-Class ApexIDX. A package like this routinely costs $89 to $125/month (plus setup and MLS fees monthly) from other vendors."
"We offered our combo at a low price of $59/month, but we wanted to do more," Richard Uzelac said. We decided to offer all CRMLS members the Premium Website and IDX for just $29/month, no MLS fees, and no Setup fees, the response has been tremendous. Agents are leaving their overpriced sites behind and signing up for the Strategic Agent Website/IDX in unprecedented number," he said.
How to Get the Discount: Strategic Agent Websites and IDX MLS Search are now discounted from $59/month to $29/month for all CRMLS Members. Go to: the CRMLS Marketplace, Then click on the Absolute Strategic Agent link, or you can just go directly to our site: StrategicAgent. It is necessary to put in the Discount Codes to get the $29/month, $0 Setup, $0 MLS IDX pass through fees: Monthly Plan: 'SAMonth' or Yearly Plan: 'SAYear.'
Strategic Agent offers other discounts to agents in additional California markets, call Strategic Agent at 805-413-7895 for more information Monday through Friday from 8am to 430pm PST.
About Strategic Agent:
Richard Uzelac's Strategic Agent Inc was created in 2015. Since that time Strategic Agent has helped thousands of Agents and Offices to build strong brands and online presences to enhance their real estate businesses. Strategic Agent specializes is Websites, IDX, and Internet Marketing and Advertising for the Real Estate Industry. Contact Richard Uzelac directly at Strategic Agent Inc. at 805-413-7888 for more information.
About Richard Uzelac:
Richard Uzelac has been in the real estate business for over thirty years. He started as an agent in New Jersey then office owner in California to real estate technology leader. Richard Uzelac was the Senior Director of Realtor.com before starting Strategic Agent Inc. in 2015. Richard has given thousands of presentations and talks on real estate technology. Richard Uzelac is available as a Speaker and Consultant for Franchises, Offices and Agents. Contact Richard Uzelac at 805.413.7895