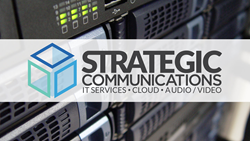 "This is a great vehicle for government agencies within the state of Texas to utilize in the modernization of their existing technology environments.", says Chris Mills, Sales Director at Strategic Communications
LOUISVILLE, Ky. (PRWEB) January 07, 2019
Strategic Communications, a technology and audiovisual integrator based in Louisville, KY, announces being named one of the vendors for the Texas DIR Cloud Services contract, providing a vehicle for State and Local government agencies within Texas to modernize their IT environments via cloud solutions.
"Winning the Texas DIR Cloud Services contract continues to build our reputation as a viable cloud integrator", says Chris Mills, Sales Director at Strategic Communications. "This is a great vehicle for government agencies within the state of Texas to utilize in the modernization of their existing technology environments. Strategic Communications designs and implements cloud solutions such as; Infrastructure as a Service (IaaS), Platform as a Service (PaaS), Software as a Service (SaaS) and other professional services mainly through Amazon Web Services (AWS). In addition, we offer complimentary cloud services such as Redhat, Oracle and Cisco. These services provide a comprehensive cloud solution to government agencies within the state of Texas".
Cloud Services: Seeing a National Trend
State and Local governments recognize the value of migrating IT processes to the cloud. Partnering with the right integrator makes the migration process seamless to the end user. The tremendous flexibility and rapid scalability reduces end-user implementation roadblocks. To elaborate, the cloud allows many trivial processes to become automated (patching, data backup, etc.). "We see many states starting to turn toward cloud services and solutions for many reasons", says Mills. "In addition, Strategic Communications holds a NASPO ValuePoint cloud solutions contract, for which any state/local government agency can utilize. The uptick trend of states investigating the utilization of the NASPO ValuePoint contract or write their own for cloud services continues to increase."
About Texas Department of Information Resources (DIR)
The Texas DIR provides statewide leadership and oversight for management of government information and communications technology. The agency's executive director also serves as the chief information officer (CIO) for the State of Texas.
Texas DIR's mission is to provide technology leadership, solutions, and value to Texas state government, education, and local government entities to enable and facilitate the fulfillment of their core missions. The DIR facilitates, and support government use of information and communications technology, everything from computers, Internet service, data storage, online applications, and much more. In brief, this ensures health, education, transportation, and other services are delivered to the citizens and businesses of Texas efficiently, economically, and innovatively.
The agency has received national and international recognition for the enhancement of public sector service delivery through technology.
About Strategic Communications
Strategic Communications is an Information Technology (IT) Solutions company focused on Cloud Solutions, IT Security, Network Engineering, and A/V systems design. Founded in 1994, Strategic Communications works with small businesses, commercial enterprises, State/Local/Education (SLED) institutions and federal agencies across the United States delivering solutions to fit specific business requirements.
Leveraging our partner relationships, business longevity, and experience, Strategic Communications provides clients with an "on-time/on budget" experience delivered with the highest level of customer support. Strategic is a Cisco Gold Partner, Amazon Web Services partner and an ISO 9001:2015 certified business, offering best in class technical solutions. In addition, Strategic Communications is classified as a Woman Owned Small Business (WOSB), Woman Business Enterprise (WBE) and Minority Business Enterprise (MBE). For more information about Strategic Communications, please visit http://www.yourstrategic.com.